Facing Your Financial Fears and Banishing Them From Your Life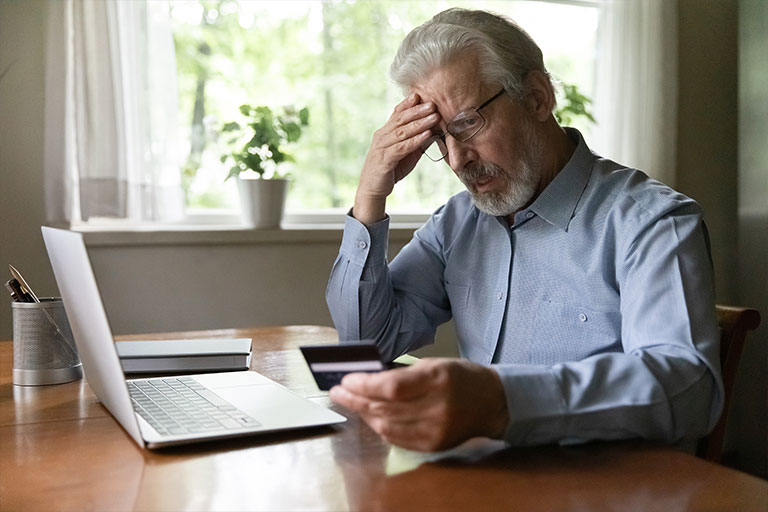 Financial fears—those thoughts that keep you up at night with worry and concern. They're like the grown-up version of the monster under the bed or the ghost in the closet. These shadowy specters haunt more than half of U.S. adults and can cause anxiety and mood changes. But unlike childhood nightmares, the financial frights persist during daytime hours and can affect an individual's ability to concentrate and achieve their professional goals.
However, there are ways to conjure an antidote or counter-curse to banish these money monsters from your life. Here are six common financial fears among U.S. adults and ways to overpower them.
1. Living Paycheck to Paycheck
Nearly 69 percent of individuals in America would experience financial difficulty if their paychecks were delayed for a week, according to a survey conducted by the American Payroll Association. Living paycheck-to-paycheck is a reality for many people, but there are ways to escape this cycle. One of the first is to create and manage a budget that fits your lifestyle. By setting a budget and tracking your progress each month, you'll be able to see where your money is going and monitor your expenses and income. You can then begin to find opportunities to reduce spending or increase the amount of money you earn. For a free resource on how to create a budget from our Greater Financial Education Center, click here.
2. Being in Debt Forever
On average, Americans carry about $90,000 of personal debt, including retail and credit cards, mortgage loans and home equity lines of credit, and consumer loans, such as personal loans and student loans. But, like the witches in the Wizard of Oz, there's good debt and bad debt. Understanding how debt works, knowing where to go for help, and making a plan are crucial to managing and reducing debt. To learn more, check out this free course from our Greater Financial Education Center.
3. Experiencing a Money-Draining Emergency
Be it caused by a leaky roof, faulty brakes, a visit to the ER, or a pet that likes to eat everything other than their regular food, emergencies happen. According to a Bankrate study, more than a quarter of U.S. adults had major unplanned expenses within the last 12 months. Not having an emergency savings fund to help cover this expense can cause Americans to be twice as likely to see negative impacts from financial stress.
However, saving $1,000 can be enough to handle an emergency without resorting to credit card debt, borrowing money from family or friends, or using payday loans. For six ways to get started on creating an emergency savings fund, click here.
4. Never Being Able to Afford a Home
Many first-time homebuyers believe that they need a massive down payment to buy their first home. Or, they worry that they won't be able to get a mortgage if they have student loan debt. However, both of these are common misconceptions. There are a variety of first-time homebuyer programs that include down payment assistance and lower interest rates. One of the best ways to conquer this fear is to talk with a mortgage professional who can assess your situation specifically and help you create a plan to buy a home. To speak with one of our Greater Nevada Mortgage consultants about what options might be right for you, click here.
5. Never Being Able to Retire
More people are more concerned than ever about retirement. According to the September 2020 SimplyWise Retirement Confidence Index, 58% of Americans are more concerned about retirement today than a year ago. Adults who have not yet claimed Social Security worry that the program will run out of money before they qualify for it. They're also concerned that they will outlive their savings.
The first step to dealing with this fear is to start early. The younger someone is when they start saving for retirement, the more time their money has to grow and earn interest. For free resources on how to start investing in your future retirement, click here.
6. Falling Victim to Fraud or Identity Theft
Almost three-quarters of Americans are afraid of having their personal or financial information stolen by hackers, and two-thirds are afraid of having their identity stolen. Their concerns are well-founded, as the Federal Trade Commission reports that there has been an increase in fraud related to COVID-19 since the beginning of 2020.
Understanding how to identify fraud and questionable activity is the way to fight against this financial fear. For a primer, watch our short tutorial on identity protection in the Greater Financial Education Center. It covers ways to protect your valuable information, including how to combat and cure identity theft. Then, read this blog post for 16 ways to protect your identity and finances.
It's Time to Face Your Financial Fears
There's a common thread to each way to combat these financial fears—and that's education, preparation, and courage. Rather than letting these frights scare you into hiding, it's time to take out the metaphorical flashlight and shine it right in their eyes.
Are you tired of living in fear? Then pick one of the items on this list that scares you the most and commit to overcoming it. Let us know what fear you've chosen and what you're doing to fight back by posting about it on social media and tagging us. We know that you're brave enough to face even the scariest of situations, and we're in your corner to help you succeed and Live Greater!