Greater Nevada Credit Union Explores Link Between Financial Wellness and Mental and Physical Health Outcomes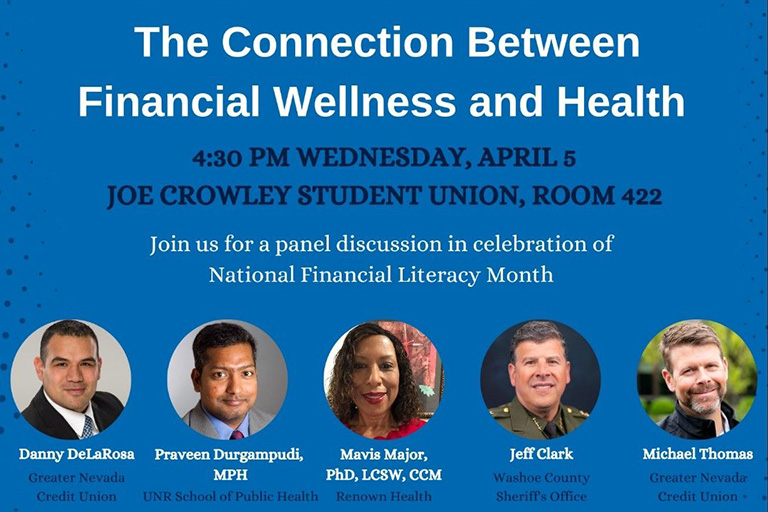 GNCU Executives Leads Panel for National Financial Literacy Month
In recognition of National Financial Literacy Month in April, Greater Nevada Credit Union (GNCU) and the University of Nevada, Reno School of Public Health have partnered to bring experts together for a panel discussion on how financial literacy can impact people's mental and physical health outcomes.
WHAT: GNCU and the School of Public Health invite the community to join a panel discussion to learn how financial literacy can impact wellness and mental and physical health outcomes – and what steps to take to improve their health and wellness. Those interested in attending the panel discussion can RSVP online.
WHO: School of Public Health students, GNCU members and community members are invited to attend the panel discussion on financial wellness featuring local experts.
Panelists will include Mavis Major, licensed clinical social worker, Renown Health; Jeff Clark, undersheriff, Washoe County Sheriff's Office; Praveen Durgampudi, department chair of Public Health Practice, School of Public Health, University of Nevada, Reno; and Danny DeLaRosa, Chief Experience Officer, Greater Nevada Credit Union. The discussion will be moderated by Michael Thomas, senior vice president of communications, GNCU.
After the discussion, panelists will address questions from attendees.
WHEN: 4:30 p.m., Wednesday, April 5, 2023
WHERE: Joe Crowley Student Union, Room 422 – 1664 N. Virginia St., Reno, NV 89557
WHY: According to a report from Clinical Psychology Review, there is a direct link between mental illness and financial stresses. Other research has also shown that an individual's financial capability, which is the combination of financial literacy and financial access, can predict their health outcomes.
Organizers want to provide a community forum to highlight when people are financially stressed, they may experience anxiety, depression, and other mental health issues. In addition, financial stress can lead to physical health problems, such as high blood pressure, heart disease, and other chronic conditions. With deeper understanding on how an individual's finances may affect their physical and mental health, financial wellness can be a priority with assistance from financial institutions and healthcare professionals for improved health and well-being.