A Look at Mobile Wallets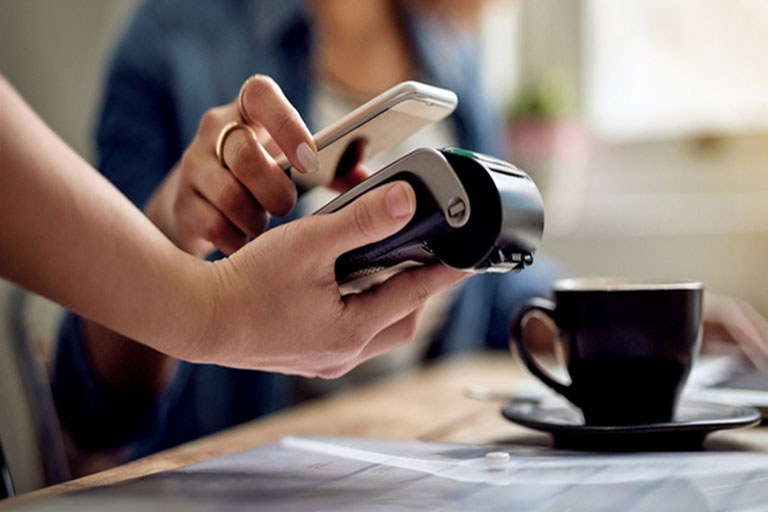 What's a Mobile Wallet?
A mobile wallet is located in your smartphone, tablet or smart watch, and some can be used on a laptop or desktop, as well. The wallet can be part of a built-in feature on a mobile device, or an app that you download from an app store. For instance, the Apple Pay™, mobile wallet is built into the Apple iPhone, where Samsung Pay™ and Google Pay™ mobile wallets require downloading the app on to your smart phone.
At a minimum, a mobile wallet can digitally store your debit or credit cards, while other mobile wallets can also store loyalty cards, tickets, coupons and more. Depending on the mobile wallet, you can use them to pay for items in select stores, as well as select websites.
How Do Mobile Wallets Work?
Once you have your preferred mobile wallet on your smart phone, you can begin adding your credit and debit card information. For added security, your phone will most likely have you turn on finger print or face recognition, or at least set a PIN. Depending on your mobile wallet, you may be able add other items, as well.
After your card is added, you may receive a verification code via email or text to confirm you are the card owner. Once your card has been added to your mobile wallet, it can be used at any stores that have Near Field Communication (NFC) symbol on the payment terminal. This allows you to tap to pay or pay with contactless payment methods. Many mobile wallets will also let you pay online at select sites.
Mobile wallets systems don't store actual card numbers, making it extremely difficult for hackers or thieves to access your information. In addition, payments are sent via a token instead of your card number. Tokenization replaces the card account number with a unique string of digital numbers, or token, so that sensitive account information is never shared.
More devices than ever are providing these contactless payment options, and more merchants are accepting these types of payments. For your convenience Apple Pay, Google Pay, and Samsung Pay list participating merchants on their web sites.
FYI: The Greater Nevada Credit Union Visa® Debit Card can be added to Apple Pay, Google Pay, Samsung Pay, Fitbit Pay, and Garmin Pay. Each will provide on screen instructions to walk you through installing and setting up your mobile wallet.