Five Tips to Help You Land Your First Professional Job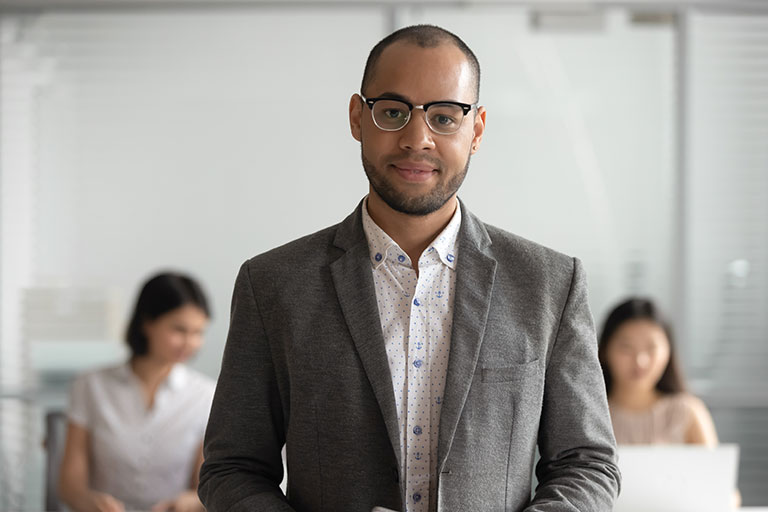 Landing your first job out of college can be a long and anxious process. We enlisted the help of GNCU's Recruitment Specialist, Jaime Guerard, to help make it a little easier for you. Here are five tips to help you land that job.
Résumé Dos and Don'ts
First impressions mean a lot, especially when you're looking for a job. Your résumé is your chance to impress the recruiter and really stand out.
Jaime says, "Keep your résumé clean and easy to read. Also, don't be afraid to add a little color, though don't go overboard with designs. Something simple like a blue strip across the top grabs my attention." Clean and elegant. Sounds simple enough right?
Also, be sure to proof your resume before sending to ensure it has correct and current information. "A BIG no-no is when someone indicates on their résumé that they are interested in working for XYZ Company and that's not the company that they're applying for," Jaime says. Also, be sure your resume has enough detail. For example: 'I have cash handling and customer service experience' is straightforward, but it doesn't help showcase your special talents. It's better to briefly describe the specific contributions you've made at past jobs and how those will help your next employer.
Not sure where to start? Here are a few resume templates to get you started.
Handling Phone Interviews
You've turned in your résumé, filled out an application and received word that your prospective employer would like to schedule a phone interview with you—that's a good sign!
"Though phone interviews are usually a little more informal than in-person interviews" says Jaime, "they do help the interviewer determine if you'd be a good fit for the company's culture."
Before you schedule your phone interview make sure to do your research. A good place to start is a google search. Of course you'll find their company website but you may also find news stories that feature the company and even social media sites that provide deeper insight into the company's culture.
Make sure you're properly prepared for a phone interview, because if it goes well there's a good chance you'll get to the next step of the interview process.
Dress to Impress
Figuring out what you should wear for an in-person interview really depends on the company you're hoping to work for. We'd suggest nothing less than business casual, but for some companies it may be a good idea to wear a suit. For most high-level positions like CEO and Vice President, a suit is a must, but for your first job just remember "dress to impress." This means making sure your clothes are pressed, aren't wrinkled, and don't have any stains. If you look good, you'll feel good and if you feel good, you'll have a better chance to succeed in your interview.
If you're strapped for cash, a consignment store is a great place to start. Men, remember to get a suit that fits you. Wearing a suit that's too baggy or too tight can really hinder your chances of making a good first impression. Ladies, remember to keep your makeup subtle and make sure your hair is kept. Remember, the more put together you look the better off you'll be.
Ace the In-Person Interview
The in-person interview is a chance for the manager, and possibly team, to get to know you. You've made it through both the résumé screening and the phone screening, which means you've beaten out a lot of other candidates. During your interview be sure to make eye contact and to smile. If you've held previous employment or worked with another person on a school project then you know that everyone likes to work with happy people. Show your potential manager that not only are you qualified for the position, but that you can have fun doing it. Good managers will be analyzing your attitude and how you'll fit into the team in addition to your previous experience.
Another thing you should know is that interviewers love when you ask questions. "When we ask if the candidate has any questions, it's very important that the interviewee comes prepared with questions. It lets the managers know that they have an interest in the company and that they're invested in learning more to make a good decision about their own future." You should have already done your research on the company before you had your phone interview but now would be a good time to re-visit it and to come up with some thoughtful questions. One thing you might think about asking your interviewer is why YOU should work there. After all, you are interviewing them as much as they are interviewing you. If you don't think you're a good fit for the company then you have every right to turn down the job, it's only fair.
If You Don't Get the Job, That's Okay
Every experience is a learning experience. I can't tell you how many interviews I went on before I accepted a position. To count the number of applications I filled out before I got an interview is a number I dare not say. The important thing is to never give up. If you don't get the job, be sure to thank the company for their time and ask for consideration for future positions. If you show respect and graciousness, it could lead to an opportunity in the future; because when one door closes, another one opens.
And, if you find that you have a passion for helping people live greater, we welcome you to check out the available career opportunities we have from both our Greater Nevada Credit Union team and for our Greater Nevada Mortgage team.