How to Improve Your Credit Score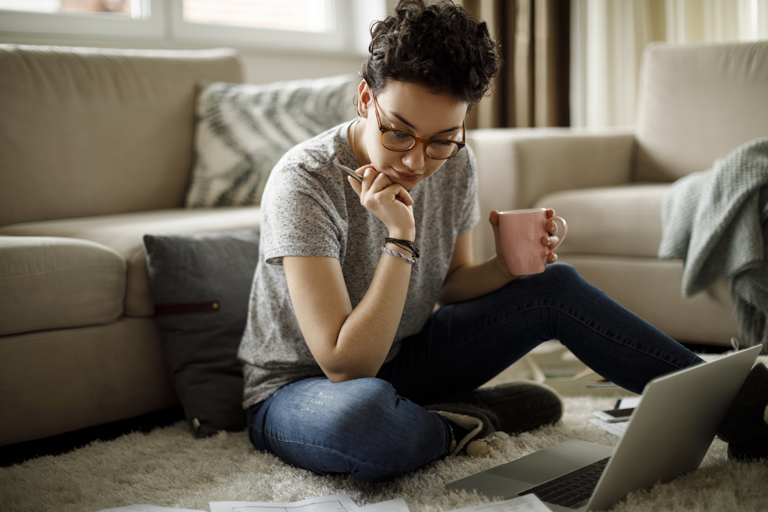 Improving Your Credit Score Can Save You Money and Help You Navigate an Uncertain Economy
Raising your credit score from fair (580 to 669) to very good (740 to 799) could save you thousands–here's what to know about your score and how to improve it.
With inflation, rising interest rates and financial headwinds making daily national headlines, it might feel like your financial future could be in limbo. During rocky times, your credit score is one important financial tool that you can control and — most importantly — it can help propel you toward your future goals. 
Whether you're looking to purchase a home, or a car, your credit score will be a significant determining factor. It dictates how much interest you'll pay over time. The better your credit score, the less interest you'll pay, which can save you thousands of dollars.
What determines your credit score?
According to Greater Nevada Credit Union's Chief Lending Officer, Marcus Wertz, companies use a mathematical scoring model to create your credit score, which determines the interest rate and credit limit lenders may offer you for mortgages, car loans and other credit services. Your credit score is based on information in your  credit report, which is a record of your credit activity such as loan paying history and current credit situation.
"Think of your credit report kind of like a school report card – if you have late assignments (think late car loan payments) or have missing homework (think missed credit card payments), then your grade (think credit score) will decline," said Wertz. "Fortunately, there are a variety of ways to improve your credit score and strengthen your finances."
Nobody knows when — or even if — an economic recession may happen, but having a good credit score can help you prepare to receive better interest rates and boost your financial health overall. GNCU experts have outlined a few examples and breakdowns on how "fair" and "very good" credit scores compare in costs to borrowers.  
Car loan breakdown:
New and used car prices increased significantly during the early days of the pandemic due to the rising cost of raw materials and intermittent production shortages.
What someone will pay for a car loan now, is also higher given increased interest rates. People with higher credit scores will save on their car loan.
Here's a more detailed breakdown.
The average price for a new, non-luxury vehicle in May 2023 was just under $45,000, according to Kelley Blue Book. With a 10% down payment of $4,500, a purchaser will need a $40,500 car loan. Here's an example of what the cost (not including sales tax) of a five-year loan from GNCU might be based on the borrower's credit score:
| | |
| --- | --- |
| Borrower A: 625 (fair) credit score | Borrower B: 770 (very good) credit score |
| Interest rate: 12.59%* | Interest rate: 6.09%* |
| Monthly payment: $920 | Monthly payment: $785 |
| Over the five-year loan, $14,281 will be repaid in interest. | Over the five-year loan, $6,580 will be repaid in interest. |
That's a savings of $7,700.82. GNCU offers a variety of car loan options to fit borrowers' needs as well as helpful tools like loan calculators.
Mortgage cost breakdown:
The Consumer Price Index (CPI), which is used to measure inflation, rose by 3% in June 2023 and it showed that the shelter category, which includes housing costs, was once again the largest contributor to the increase. Unfortunately, home prices may feel even more out of reach for homebuyers with less-than-ideal credit scores.
While the right down payment depends on a borrower's individual goals and financial situation, and factors such as the property type also affect mortgage rates, a 20% down payment amount of $100,000 on a $500,000 home is used in the example below (not including additional closing costs).
Here's an example of the cost of a 30-year mortgage loan from Greater Nevada Mortgage based on the homebuyer's credit score:
| | |
| --- | --- |
| Homebuyer A: 625 (fair) credit score | Homebuyer B: 770 (very good) credit score |
| Interest rate: 8.5%* | Interest rate: 7.5%* |
| Monthly payment: $3,845 | Monthly payment: $3,496 |
| Over the 30-year loan, $884,044 will be repaid in interest. | Over the 30-year loan, $758,586 will be repaid in interest. |
That's a difference of $125,458. From first-time homebuyers to homeowners who are looking to refinance, Greater Nevada Mortgage offers a variety of mortgage solutions.
*Please note: Interest rates are subject to change. The above rates are provided as examples and are not guaranteed.
So, how do you improve your credit report and credit score?
GNCU partners with BALANCE, a financial wellness non-profit, to offer free online education courses in English and Spanish. Courses and webinars teach credit basics and how to build and maintain a healthy credit score. Additionally, here are some best practices that can improve credit scores:
Pay bills on time. 
Late or missed payments stay on your credit report for up to seven years. By law, a late payment can't be reported to the credit reporting companies – Equifax, Experian, and TransUnion – until it is at least 30 days past due. A late bill payment won't hurt your credit if you pay before that 30-day mark, although you may have to pay a late fee.  

If it's not feasible to make a bill payment on time or after the 30-day mark, there are options like skip-a-payment programs. GNCU offers skip-a-payment for qualifying members, allowing you to delay a loan payment without impacting your credit score.

Pay down debt and credit card balances.
Paying down balances on loans and credit cards can boost credit scores as well. Credit scoring models compare your amount of debt to your credit limits. If the amount owed is close to the credit limit, it will likely bring down your credit score.

Consider making partial (half) payments every two weeks instead of one full payment once per month. By the end of the year, you'll have made a full extra payment and reduced the interest you pay. GNCU's bi-weekly payment calculator can help you determine how much of a dent you can make in your overall loan amount.

For some borrowers, debt consolidation can secure a better interest rate, and debt counseling can offer personalized guidance and support.

Check your credit report and request corrections if needed.
Correcting mistakes on your credit report can increase your credit score. Check for errors, such as a reported late or missed payment that you actually paid on time.

See if your bank provides any credit monitoring. GNCU offers My Credit Health for members for free through their online banking, which provides access to their TransUnion credit score, credit monitoring and reporting, financial wellness tips, credit score goal setting and more. Or, go to annualcreditreport.com, which is the site authorized by federal law to provide free credit reports from Equifax, Experian, and TransUnion.

You're not in this alone. Boost your credit score and financial independence with experts by your side.
While it's not the only tool you can use to "recession-proof" your finances, improving your credit score can help you achieve your goals, control your financial future and be better prepared to navigate financial headwinds. GNCU is here to help with financial education resources, webinars, counseling, loan and budgeting calculators, and more.
Not sure where to start? Talk with one of our financial experts at GNCU by calling (800) 421-6674.