Business Success Spotlight: DreamMaker Bath & Kitchen of Reno, NV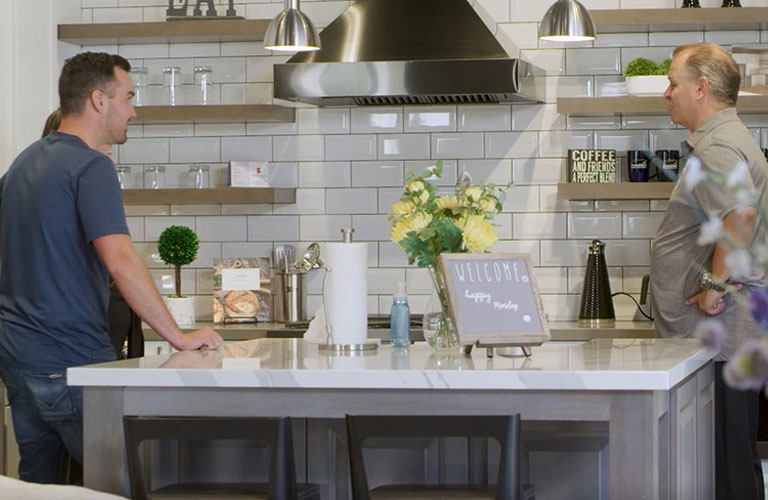 Making Dreams Happen Together With This Nevada Business
DreamMaker Bath & Kitchen of Reno helps people build the home of their dreams, and we're proud to be their home for Nevada small business banking.
We're Proud to Be DreamMaker's Home for Nevada Business Banking
When Shawn Colvin, co-owner of DreamMaker Bath & Kitchen of Reno, a Nevada small business, talks about helping people achieve their dreams, he gets a glow in his eyes.
"Our mission really is to create a remodel experience for our clients that is above any of their expectations and really make the dream come true for the homeowner," Colvin said.
DreamMaker Bath & Kitchen of Reno helps make Nevada homeowners' remodeling dreams come to life. The Nevada business's distinctive, full-service remodeling approach focuses on serving its clients from concept, to design, all the way through installation.
"We have a wide variety of all of our cabinet choices, colors, door styles, all the cabinet hardware, the different quartz colors and styles you can pick for the countertops," said Dawn Colvin, Shawn's partner and another DreamMaker co-owner. "We'll pull up their design on the computer and allow them to change their colors on the fly while they're talking to us," said Colvin. "I just love seeing their faces when they go, 'Oh, that's the kitchen that I want!'"
As an independent, locally owned and operated franchise, DreamMaker Bath & Kitchen gets the best of both worlds as a Nevada business. The DreamMaker team benefits from annual training on the latest products, technology, and techniques from being part of a national organization. As a Nevada business, they stay connected to their community and find ways to give back.
One of the ways DreamMaker stays connected is by banking locally with Greater Nevada.
"I love having Greater Nevada's main office just a few blocks from us," Colvin said. "Their tellers in there are so friendly, and they know me when I come in. They've just been wonderful to work with."
Like Greater Nevada, DreamMaker knows the value of relationships.
"I'm a relationship person," Colvin said. "It's not about just the money for me. It's about being the best and having strong relationships. Greater Nevada Credit Union gives me that feeling when I come in, that they genuinely care. I feel respected, and I treat them with that same respect."
To learn more about all the ways we can help your small business thrive,