Business Success Spotlight: Grandma's Fudge of Virginia City, NV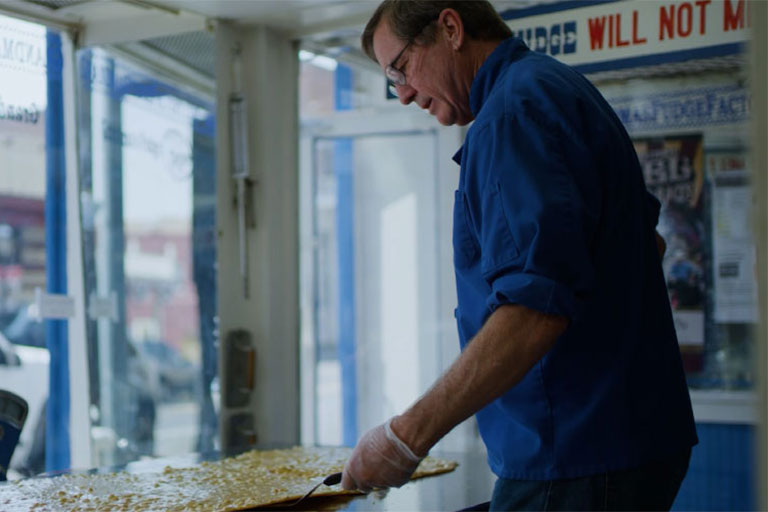 Making Life In Northern Nevada A Little Sweeter
Grandma's Fudge in Virginia City is making fudge the old-fashioned way every day, and Greater Nevada is proud to help small business owners live their dreams every day.
Grandma's Fudge Owners Take GNCU's Motto of 'Living Greater' to Heart Every Day
Anyone who's walked the rickety wooden slat sidewalks of historic mining town Virginia City has smelled the sweet aroma of fudge wafting through downtown. That aroma comes from Grandma's Fudge Factory, a small business that opened its doors in 1971 in Virginia City.
Now owned and operated by James and Brenda Ward, Grandma's master candy makers are still making fudge daily by hand, the old-fashioned way, at its factory on "C" Street. Grandma's Fudge is made using only the freshest ingredients and is cooked in large copper pots. It's paddled by hand, and while it's still warm, it's poured onto a temperature-controlled table and tempered to perfection.
"The community is a huge part of being here," James Ward said. "It's a real small town. My neighbors are great. We accept orders for each other and look after each other… The people here are really, really close. It's really tight."
At Greater Nevada Credit Union, we're proud to support the vitality of towns like Virginia City, Nevada, and other rural areas across the state by enabling small businesses to help their communities thrive.
"I think living greater is being a small business owner and not being dependent on anyone else for your livelihood, and making it work," James Ward said.
Thriving small businesses in rural and underserved communities help strengthen our national economy by reducing reliance on foreign production and global supply chains.
Ward said he loves the personal feel at GNCU and appreciates how Greater Nevada gives back to the community and other small businesses. He and Brenda Ward both said they feel like valued customers when they walk through the doors at Greater Nevada.
"They want me to do well, and they're happy when I do well," he said. "It is like a family."