Our Top 10 Tips to Save More Money This Holiday Season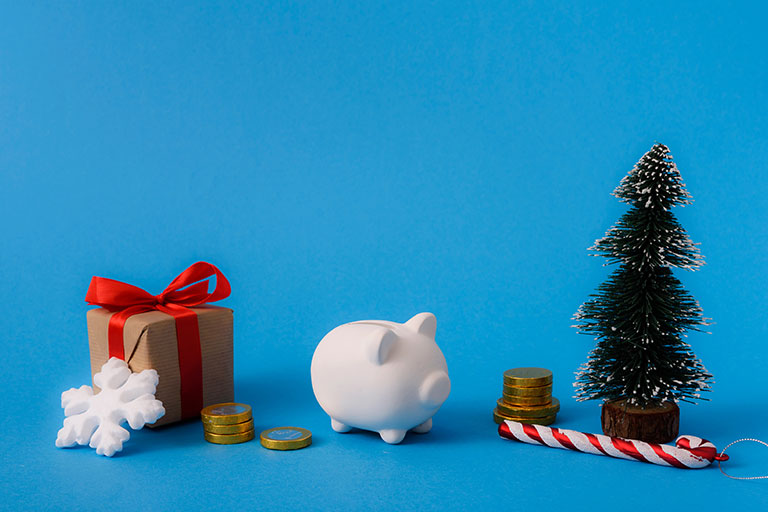 With the holidays fast approaching, we're all looking for ways to save more money for gifts, traveling, entertainment, and more. So, if you're wondering how to save more money each month, we've got 10 manageable, realistic changes you can make to see your savings grow.
1. Create a Holiday Budget
Setting a budget for the next few months will help determine how much you can afford to spend for the holiday season. As you review your income and regular expenses, consider anything you want or need for family meals, travel expenses, holiday parties, and gifts for family, friends, and co-workers.
For helpful information and in-depth guides on how to set up a budget that accounts for discretionary spending, visit GNCU's free Greater Financial Education Center.
2. Give Your Credit Cards a Break
Getting caught up in the spirit of giving and the fun of eating out and going to parties over the holidays is easy. However, it's important to resist the urge to charge your expenses if you want to save more money. Paying cash helps you stick to your budget.
Another option is to set controls on your charge accounts. If you're a Greater Nevada member, you can use the GNCU Cards app to set spending limits or block certain purchase types.
3. Set Up Automatic Payments
Avoid late fees by setting up automatic payments for your regular bills. Some companies even offer a discount for signing up for automatic payments. Learn more about this way to save more money by checking out our Online Bill Pay and Bill Capture pages at GNCU's Digital Banking Resource Center.
4. Make Your Accounts Save More Money for You
By splitting your direct deposit into checking and savings, you can save more money each paycheck with one simple yet effective strategy. Part of your paycheck goes into your checking account to pay your bills and other expenses, while another portion goes into a high-yield savings account.
And while you're at it, why not start planning for next year? You can set up a separate holiday savings account with our Christmas Club account.
5. Evaluate Recurring Bills
Is there a streaming service you don't watch much anymore? Have you started running and walking in your neighborhood rather than working out at the gym? Do you still read that digital magazine?
It's time to take a close look at your eStatements and get rid of what you don't need. (You can always subscribe again later if you find out you miss it.)
6. Avoid ATM Fees
An ATM Fee of $3 per transaction can add up each month, but there's also an easy way to take back that cash. If you're a GNCU member, you can withdraw money from an ATM in the CO-OP Shared Branch Network throughout the country at no charge.
7. Monitor Your Account
With all the different ways we spend money these days, tracking what's going where can be challenging. You don't have to when you sign up for account alerts. Here are some of the helpful notifications you can get by push notification, text, or email:
When your account balance hits a selected threshold.
When a debit, credit, or check with an amount you choose posts to your account.
When check orders, external transfers, funds transfers, or stop payments have changed.
Reminders of everything from meetings to birthdays.
8. Consolidate Credit Card Debt
Whether it's your student debt, car loan, or credit card bills, paying off debt can encompass a huge chunk of your monthly expenses. Especially with today's rising interest rates, you may be better off by consolidating your debt into a single monthly payment.
When you open a personal line of credit at GNCU, you can access flexible funding for debt consolidation or personal needs like an unexpected life event. You can use the funds you need and only pay interest on what you use. Plus, the balance renews after every payment is received, like how a credit card account works.
9. Cut Back on Impulse Spending
An impulse buy can be as small as a package of gum at the checkout lane or as large as a new car you just wanted to test drive.
For most of us, these impulse purchases are somewhere in the middle — that pair of shoes we don't really need or the latest video game.
How can you save more money by avoiding impulse spending? Here are some tips:
Unsubscribe to email lists or newsletters that flood your inbox with tempting offers.
Cut back on social media to see fewer ads targeted to your tastes.
Shop with a list and stick to it.
Take only the cash you need when you shop. Leave your cards at home.
Wait at least a day before making an impulse purchase.
Even when you're trying to save more money, it's essential to give yourself a bit of breathing room. Budget some money for "fun" spending and stick to that amount. You'll feel less deprived, be less likely to overspend and make more thoughtful decisions about where to spend your money.
10. Try a Spending Freeze
If you'd like to learn more about your spending habits, challenge yourself not to spend money for a day, week, month, or even longer.
No spending includes no buying groceries, no eating out, no grabbing a coffee, and no going to the movies. You get the idea. It involves planning to ensure your utilities are paid and you have the supplies you need at home. You'll see measurable results and know more about what monetary choices matter most to you.
If you follow one or more of these tips, you'll be able to save more money to share the joy of the holidays with family and friends this year. For more financial and lifestyle tips, check out our Living Greater blog.