Greater Nevada Credit Union Contributes Over $47,000 to the Nevada Wolf Pack Marching Band for 2020/21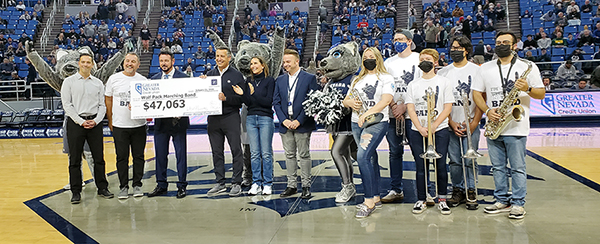 GNCU has contributed $47,063 to the University of Nevada Marching Band based on a long-standing presenting sponsorship of the group, plus money raised at the University branch and elsewhere in 2020 and 2021. All money donated will go to help with the Band's needs for instruments, scholarships, travel and other expenses.
The Wolf Pack Marching Band and Howlers Pep Band are two of the most visible organizations on campus. With about 200 current Marching Band students, the program continues to grow in size, performance success, and recognition within the community.
Donations are being accepted for 2022, and GNCU will be matching $15,000 in total contributions to the Band through their online fundraiser. These funds are used to support the Band as they work to keep athletes, students, and the community marching forward. If you're able, please consider a donation by clicking here.