Greater Nevada Credit Union Promotes Danny DeLaRosa to President and CEO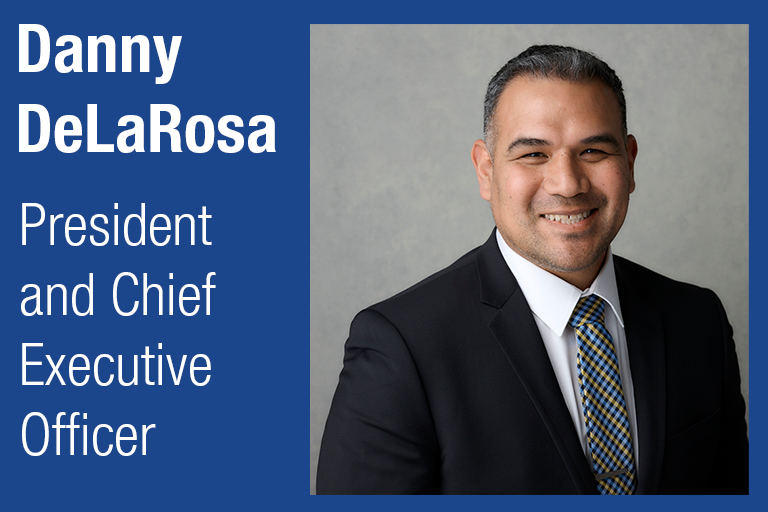 Greater Nevada Credit Union (GNCU) is excited to announce the promotion of Danny DeLaRosa as President and CEO, effective July 1, 2023. DeLaRosa leaves his current role as GNCU Chief Experience Officer to take on executive leadership of Nevada's largest credit union.
DeLaRosa joined GNCU in 2019 and has been instrumental in driving the organization's growth and success as a member of the executive leadership team. With a passion for delivering exceptional member experiences, his organizational leadership and strategic vision have led to significant advancements and innovations within the credit union. The GNCU Board of Directors selected DeLaRosa, noting his demonstrated leadership abilities and a deep understanding of the credit union industry.
"We are thrilled that Danny DeLaRosa, an internal candidate, has emerged as our next leader," said Rob Joiner, Chair of the GNCU Board of Directors. "Danny's innovative mindset, industry expertise, and proven track record make him the perfect candidate to guide GNCU into the future. With the full support and confidence from the board of directors, we are excited to see Danny continue our focus on exceptional service, community engagement, and delivering valuable products and services to our more than 86,000 member-owners."
Throughout his tenure at GNCU, DeLaRosa has spearheaded impactful initiatives, including leading strategic planning for the credit union, and securing the organization's Community Development Financial Institution (CDFI) certification. DeLaRosa also launched Greater Perks, a member recruitment initiative offering unique benefits and programs to help employees of new businesses and industries achieve their financial goals. Additionally, DeLaRosa launched employee engagement and recognition platforms and is credited with expanding GNCU's marketing, business development, community outreach and people development functions.
"I am truly honored and humbled to be the next President and CEO at Greater Nevada Credit Union," said DeLaRosa. "For almost 75 years, GNCU has delivered meaningful impact for members, employees, and the community. I look forward to building on this legacy as we continue to serve with excellence and make a generational impact on those we are fortunate to serve. GNCU will always be driven by our collective passion to help more people Live Greater."
Prior to joining GNCU, DeLaRosa was Chief Sales Officer at Vibrant Credit Union and spent nine years at United Federal Credit Union in progressive leadership roles, including Vice President of Member Relations and Market Vice President in Nevada. DeLaRosa has served as a member of various boards of directors, including Renown Health Foundation, Junior Achievement of Northern Nevada, and Chair of the Reno-Sparks Chamber of Commerce. DeLaRosa holds a master's degree from Cornerstone University.