Greater Nevada Credit Union Secures $50,000 Grant for Nevada Nonprofit to Ensure Home Safety for Low-Income Residents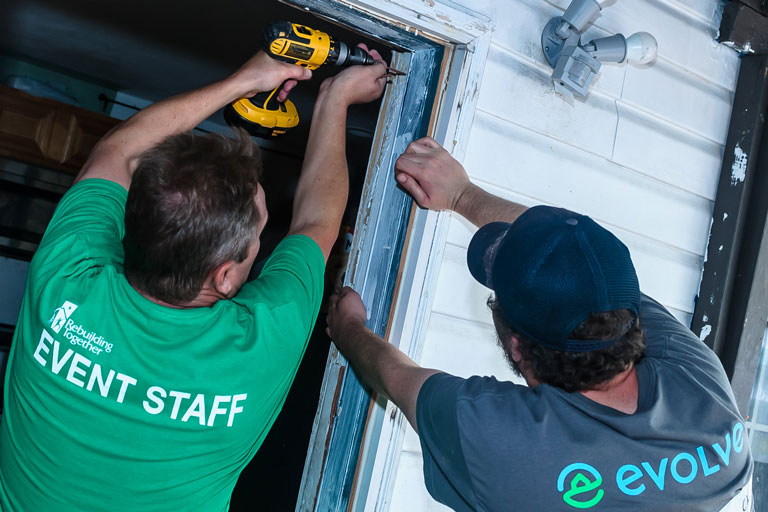 The Nonprofit Rebuilding Together Northern Nevada Provides Essential Services to Homeowners in Need
Nevada's senior population is growing, the percentage of residents aged 65 and older ranges from 10.5% to 29.8%, according to Truckee Meadows Regional Strategy for Housing Affordability. Many of Nevada's seniors face harsh realities as their homes age, some homes even becoming unsafe or inaccessible. Rebuilding Together Northern Nevada is a nonprofit that aims to assist the state's low-income senior population by repairing homes, revitalizing communities, and rebuilding lives. More than half the homes RTNNV works with are older than 35 years and for low-income homeowners these repairs help keep them in safe and secure living situations.
"The most affordable home is the one you're in," said Meg Shea, Rebuilding Together Northern Nevada executive director. "We want to do everything we can to keep people in their homes. Many of the qualified homeowners who live in these older homes that need repairs will certainly benefit from our assistance."
RTNNV was recently awarded $50,000 through the Access to Housing and Economic Assistance for Development (AHEAD) economic development grant, which Greater Nevada Credit Union helped facilitate. The grant will expand RTNNV's services to rural Nevada counties including Churchill, Douglas, Lyon, and Storey counties—areas that need similar services.
Since 2020, Rebuilding Together Northern Nevada has aimed to serve Nevada's aging population, low-income homeowners, and veterans who live in older homes that need repair. RTNNV, an affiliate chapter of the national Rebuilding Together organization, has helped 122 homeowners with 695 repairs in Nevada.
RTNNV uses a checklist of 25 Safe and Healthy Housing Principles to assess homes before they repair them. Standard improvements include fall prevention improvements like installing handrails for stairs, grab bars, or toilet/tub modifications; health and safety improvements like installing a working smoke detector, CO2 detector, or fire extinguisher; roof repair; and more.
"When we learned of the work RTNNV is doing throughout our communities, we were eager to help them apply for and secure the AHEAD grant," said Rick Hassman, chief financial officer at GNCU. "RTNNV is bringing together partners from all walks of life to help their neighbors. At Greater Nevada, supporting organizations like this one matters a great deal. Our passion is to help more people Live Greater and RTNNV is doing just that."
For more information about RTNNV including eligibility criteria visit rebuildingtogethernnv.org. Like the AHEAD grant secured for RTNNV, some grants require a connection with a local credit union to arrange facilitation. GNCU appreciates the trust many Nevada nonprofits, like RTNNV, have instilled in the credit union to assist with these opportunities and encourages others to reach out. Learn more at gncu.org and 800-421-6674.