Greater Nevada Credit Union Wins The Record-Courier's Best of Carson Valley 2023 Award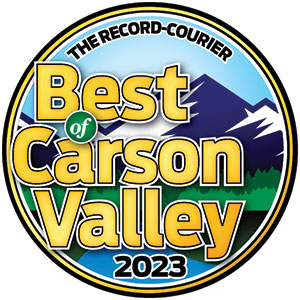 Greater Nevada Credit Union Voted First Place for Best Bank/Credit Union and Greater Nevada Mortgage Voted Second Place for Best Mortgage Lender
The Record-Courier asked readers and local community members to nominate and vote on the best businesses and organizations in the region in multiple categories.
Greater Nevada Credit Union is very proud to have earned the honor of first place in the Best Bank/Credit Union category, making it the ninth year in a row for top honors! Greater Nevada Mortgage, the credit union's home lending subsidiary, was honored with second place in the Best Mortgage Lender category.
We are incredibly thankful to the readers of The Record-Courier and residents of Minden, Gardnerville, and surrounding communities for entrusting both companies with their expertise in financial-related needs. Also, the dedicated employees of both companies for their passion in helping more people Live Greater with everything they do to go above and beyond each day.