Benefits of Online Bill Pay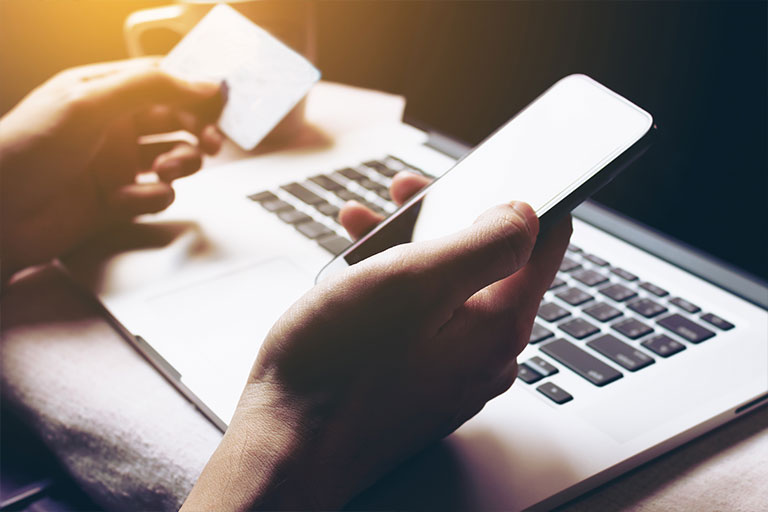 If you're not already using online bill pay, there are many reasons to switch. However, before we go into them, let's reminisce about what the process of paying bills once looked like.
Back in the day we received bills by mail, paid them by writing a check and then mailed it through the U.S. Postal Service, which would deliver it around a week later. The biller would then process the check or cash it and eventually it would post to your bank account – just in time for you to receive another bill. And if you forgot to mail your payment on time, which usually resulted in frantically calling the biller, paying-by-the-minute to sit on hold, and eventually paying your bill over the phone for an additional service fee.

Today when you receive a bill, it's often through email and you can simply log onto your computer to pay, or you may even be set up on some version of auto pay. These basic functionalities of online bill pay are usually free to use, or for an extra fee expedited payments are often available.

So, why is setting up online bill pay so important for making your life easier, safer and just overall better? Here are five things to consider.
Security: When you pay by mail your information can be accessed by anyone who can open your mailbox. Mail can also get accidentally lost, ending up in the wrong hands. By paying online you are reducing your exposure to fraud because there is no paper trail.
Reduced expenses: According to a 2016 survey, more than a third of consumers paid a bill late in the previous 12 months, and 65% had a late fee. With online bill pay you don't need to write checks or pay for postage. You can even prevent late payments and fees by setting up auto payments. Plus, you save time for doing other activities!
Flexible, faster payments: Online bill pay gives you more control over timing payments and they reach the payees faster. Even if you're on vacation, you can still pay your bills. No need to mail a payment a week or more in advance.
Financial tracking Your payment history is automatically saved online and you have 24/7 access to it. You don't need to record your payments in your check book either. And if the payee says they didn't receive your payment, you have instant access to confirm
Greener: When you receive bills electronically, you're cutting down on wasted paper, which is good for the environment. Having your bills stored electronically also gives you access to your files online to view them on the go, so no need for extra filing cabinets or space.
Setting Up Online Bill Pay
Many service providers offer electronic billing, and your credit union or bank probably offers online bill pay through their online banking. The initial set up may take a little time, and it can take a few billing cycles for the online bills to take effect—but the small effort will be well worth it.

To get started, you'll want to gather all your bills and payment information, enter the billers' information into your financial institution's online bill pay platform, and then set up your payments and even reminders of when bills are due. Once you're done with this process—bill paying is a snap moving forward.

For a demonstration of how online bill pay works, you can visit Greater Nevada Credit Union's free online bill pay tutorials.
Source: https://www.nerdwallet.com/blog/banking/online-bill-pay-what-it-is-why-you-should-use-it/