6 Fun Date Ideas on a Budget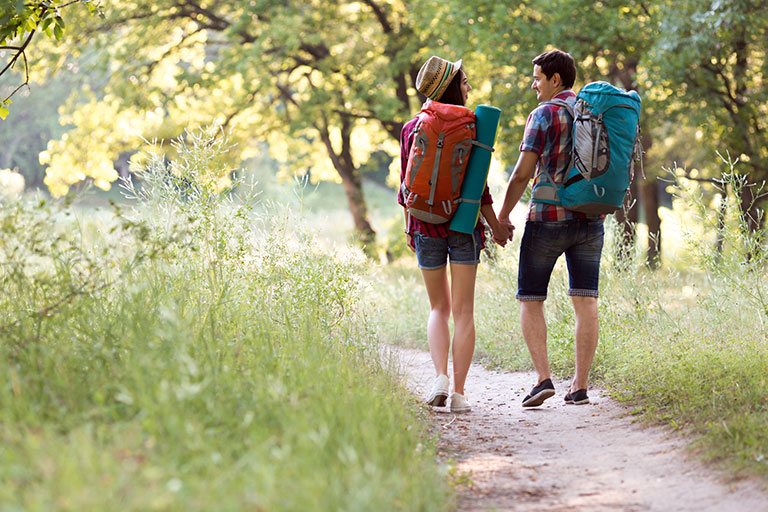 Let's face it – dating can be expensive. Even going to dinner and a movie on a free Saturday night can add up. The good news? You can be romantic on a budget! Plenty of fun date ideas won't break the bank, allowing you to connect with your partner without the money stress in your way.
Whether you're looking for dates that won't cost you a dime or you want to find a way to make a staycation or vacation budget-friendly, we're here to help. While you work towards saving for the elaborate dates, you can foster romance and intimacy with your partner without breaking the bank.
Our local community has activities, classes, and experiences that can make an excellent date night. With some creativity and planning, you can plan for different types of date nights to keep them exciting and save up for bigger nights out in the future.
Free Date Ideas in Northern Nevada
Now that the sunshine is here to stay, it's the perfect time to plan outdoor picnics, hikes, and other cost-free dates. Here are a few ideas to get you started:
Go for a Sunset Hike at Mayberry Park
Mayberry Park is set against the beautiful Truckee River, with miles of hiking trails, a paved bike path, various individual picnic areas, and much more. The hiking trails vary from easy (a flat, 1.5-mile out-and-back) to more challenging and eventually connect to the Steamboat Ditch trail. Regardless of your fitness level, you can find a trail that suits you and your date. You can see all of Reno from the Steamboat Ditch trail – talk about a romantic backdrop for your date!
Cost: $0
Volunteer Together
Using your time together to volunteer for a cause that matters to you both can help to bring you closer together. Not sure how to get started looking for volunteer opportunities? These seven organizations are some of our team's favorites to volunteer at – just don't be surprised if you run into us while making a difference with your loved one!
Cost: $0
Stargaze in Your Backyard
Looking for more of a nighttime date? Nothing beats stargazing with your partner. If you have a backyard unaffected by light pollution, this date is as simple as grabbing a blanket or two and heading outside to stare at the stars. Want to elevate this date and take it outside of your home? Drive to a local trailhead (like the Hunter Lake trailhead) and sit out under the stars there. You could even drop the back seats in your car, open your trunk, and stargaze from there.
Cost: $0
Cheap Date Ideas in Northern Nevada
Looking for something else? There are plenty of spots in our local community where you can pull off a cheap date – even if it isn't free.
What's more romantic than casually strolling through an art gallery hand-in-hand with your date? Not much, which is why the Nevada Museum of Art is a great low-cost date idea. The museum is open Tuesday – Sunday from 10 a.m. to 6 p.m., giving you plenty of time to work it into your schedules.
If you're a member, your admission to the museum is free. If you aren't a member, expect to pay $15 for adult admission and $13 for senior and student admission. Make an entire afternoon of it and visit the in-house cafe or go to First Thursdays on the first Thursday evening of every month.
Cost: $0 – 15 per person for admission
Go on a Distillery Tour or Take a Class at Ferino Distillery
If you and your partner love craft cocktails, this date was tailor-made for you. Whether you want to tour and taste or like to learn how to make world-class cocktails, Ferino is the place to be.
Distillery tours are offered Tuesday – Saturday, every hour from 3 p.m. to 7 p.m. You'll learn how the spirits are made, get an opportunity to taste some and spend an afternoon or evening with your loved one.
Cost: $25 per person to tour and taste at the distillery
Go Rock Climbing at Basecamp
Looking for something more adventurous? Rock Climbing makes for an active date to get you out of your comfort zone. The indoor bouldering is perfect for first-timers who haven't quite learned the ropes yet. You can also sign up to climb the record-holding 164-foot outdoor wall if you're up for more of a challenge!
If you haven't climbed before, don't worry – you can rent all the relevant equipment on-site, and the staff is happy to give you the lay of the land. An adult day pass is $17. Seniors and youth (less than 14 years old) can get day passes for $12, as can students.
Cost: $0 – $17 per person for climbing and gear rental
Budgeting for Date Night
If these dates aren't quite your style, Northern Nevada has plenty of other date night options. From Food Truck Friday to local concerts and events, as long as you're building date night into your budget, you can enjoy it stress-free.
Looking for resources to help you have fun while meeting your financial goals? Visit our Financial Resources section for budgeting tools, financial calculators, and more!