7 Places GNCU Employees Volunteer and You Should Too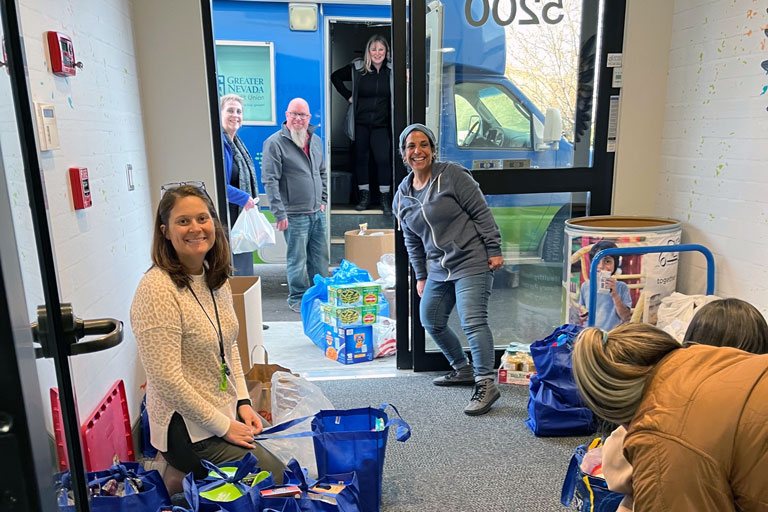 Volunteering in Northern Nevada is a great way to stay connected to your community. At Greater Nevada Credit Union, we take volunteering in the community seriously and support our team in finding and participating in those opportunities.
Greater Nevadans Volunteering in the Community
The whole team at GNCU loves contributing to our community; it's built into our DNA! We strive to help others in our community Live Greater and ask our team members – Greater Nevadans – to volunteer for at least 12 hours per year in support of the betterment of our local society.
In 2022, our former Chief Executive Officer, Wally Murray, also encouraged Greater Nevadans to take their charitable contributions to another level with the "Live GR8R Holiday Spirit Challenge," which helped us achieve more hours served than ever before! The initiative led 353 team members to volunteer for 4,979 hours. That's about seven whole months of volunteer time! While we recommend 12 hours per year, many of our Greater Nevadans go above and beyond. Northern Regional Manager, Rick Kohler, clocked the most volunteer hours at 382 hours.
If you want to help us inspire Northern Nevada to Live Greater, here are seven local organizations we love.
Where to Volunteer in Northern Nevada
Girls on the Run – Sierras
Girls on the Run is designed for girls of all abilities. The program uses a combination of physical training to walk or run a 5k event and group exercises that inspire community building. The curriculum incorporates lessons on health, goal setting, communication, teamwork, and more.
If you want to get involved with Girls on the Run, you can see their open opportunities here.
Spread the Word, Nevada
Spread the Word Nevada promotes literacy to all of Nevada's children. The organization is working to eradicate illiteracy across Nevada through mentoring, book donations, and family literacy programs.
To get involved with Spread the Word Nevada, visit their website here.
SPCA Northern Nevada
The SPCA of Northern Nevada is an organization dedicated to the welfare of animals. They work to help pets in need and promote animal welfare in Northern Nevada. The SPCA has volunteering opportunities in their thrift store, adoption center, and more!
St. Vincent's Food Pantry
St. Vincent's Food Pantry is the largest food pantry in Northern Nevada. The organization works to provide fresh and non-perishable foods to individuals and families in our community at no cost. It also supports other food pantries across the Reno-Sparks and rural Nevada communities.
Urban Roots
Urban Roots is a Reno-based nonprofit which provides education and fresh food to the Northern Nevada Community through its Farm School, community garden, and other programs.
Looking to volunteer in the fresh air? See the open opportunities at Urban Roots.
Domestic Violence Resource Center
The Domestic Violence Resource Center of Reno, formerly known as CAAW, helps victims of family violence in Washoe County. In the last 40 years, they've assisted more than 100,000 victims in finding shelter, safety, and more.
You can get involved with the Domestic Violence Resource Center here.
No matter where you dedicate your time, you can make an impact – just as we are – on our local community. Don't wait to start helping others Live Greater through volunteer opportunities in Northern Nevada!