Bright Spots: How Greater Nevadans Helped Their Neighbors Live Greater in 2020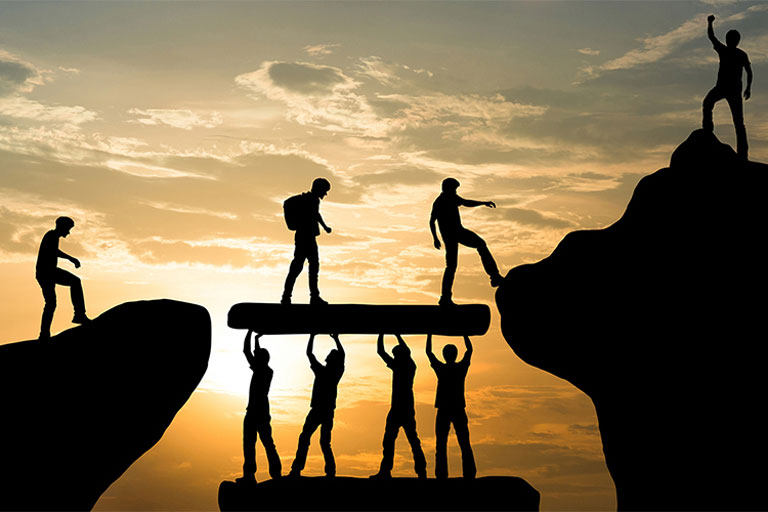 In 2020, we witnessed and were a part of history in many ways, both good and bad. There were times that tested our resolve, our patience and even our ability to move forward. With our members and clients in need, as Greater Nevadans, 2020 became our time to shine. A time to show our members and our communities that we care about them and will do whatever we are able to help them Live Greater. And truly, a time to collaborate, celebrate and move forward together.
While there was no shortage of bad news in 2020, there were some bright spots as well—moments of kindness, generosity, and real human-to-human connection.
At Greater Nevada, we are an organization that genuinely cares about people. In fact, it's the first core value that our team members learn when they become Greater Nevadans. Our people-first approach means we take a real interest in those we serve and connect with during our workday and beyond. We empathize with their challenges, celebrate their successes, and do whatever is in our power to help them live greater.
As a Greater Nevadan, seeing this value in action can bring me hope, even in the darkest times. In making a difference in our members' lives, our team also inspires each other to look for ways to be greater every day.
Here's another core value we share: Be Bright. Every Greater Nevadan looks for ways to deliver well-conceived, intelligent solutions for people, add uplifting color to their lives, and find ways to illuminate their days. So, in the spirit of this value, I'd like to share some bright spots from 2020—examples of our team members living their values and helping their neighbors live greater.
2020 Bright Spots From Our Greater Nevadans
I'd like to start with the story of a member I met whose husband passed away unexpectedly in November. This couple had four loans with Greater Nevada, and when this newly grieving widow came to us for help, she was at a loss as to how she would continue her payments. We reviewed all of her accounts and deferred her payments on all loans for three months—long enough to get life insurance and sell one of their vehicles. She was very grateful and literally breathed a sigh of relief when I told her what we were able to do for her.
Meanwhile, Traci Sandberg, a member service representative at our Ely branch, cared genuinely and brought brightness when she helped a member live closer to her grandchildren. Right before Thanksgiving, this member, Hillary, needed to have documents notarized to complete the purchase of a home in Utah. However, she was unable to come to the GNCU branch during business hours.
"She was in such a time crunch," Traci said. "I tried to think of anywhere she could go, but even the courthouse refuses to do notaries outside their scope. So really, the Ely branch has the most accessible notaries in our entire town."
Traci went the extra mile to ease some of Hillary's stress, and found a creative solution to bring the notary service to her outside of normal branch hours. While wearing a mask and observing COVID-19 safety protocols, she provided the notary service.
"She was so relieved that she would be able to send the papers out within the indicated timeline that she teared up, which in turn made me tear up," Traci said. "To be able to be there for our members when they need a simple service and provide that for them is an amazing feeling. As GNCU employees, we make a difference in each and every member every day. It is awesome to be a part of something so much greater."
William Golden, a mortgage consultant and loan officer with Greater Nevada Mortgage, shared a story that also expressed his care. He helped a single mother buy her first home in 2020, and her young son wanted to thank William himself.
"He told me this was going to be his first night in his own bed and not on the floor," William said. "I got a little misty from that."
Often, Greater Nevadans don't limit their care to their office or branch's four walls. This was the case when Anna Patrick, a loss mitigation specialist, was on a regular shopping trip at Costco. Anna and another Greater Nevadan, Virginia, had been trying to contact the beneficiary of a member who had recently passed away. Virginia discovered that beneficiary's employer was Costco in Carson City. So, as Anna left the store with the items she had purchased, she was overcome with the need to leave a note to try to contact the beneficiary.
"I wanted to make sure the rightful owner received these funds," Anna said. "It was easy enough to leave a quick note."
The next week, Anna received a call from the beneficiary and informed her that there were funds available in the deceased's savings account.
"The beneficiary was overcome with relief and joy," Anna said. "The amount in the savings account was life-changing for the family."
While the beneficiary was not an active Greater Nevada member, that didn't matter to Anna.
"We're here for our members and non-members, too," Anna said.
As I look back on what a trying year 2020 was, I can't help but smile as I reflect on these bright spots. The ways we are able to transform our members' and clients' lives—even in ways as small as leaving a note—exemplify what being a Greater Nevadan means to me, and to all of us.
As we move into 2021, I remain inspired. I am proud to be a part of an organization that looks for ways to help others as well as each other. From small businesses, to new members, to homebuyers, students and more, we have helped so many people to live greater. While the new year may bring new challenges, it also brings new opportunities—opportunities to grow, learn and succeed together. My hope for 2021 is to continue to be that partner for all of our community members and help each to live greater in their own way.