An Inside Look at Greater Nevada's Early Response to COVID-19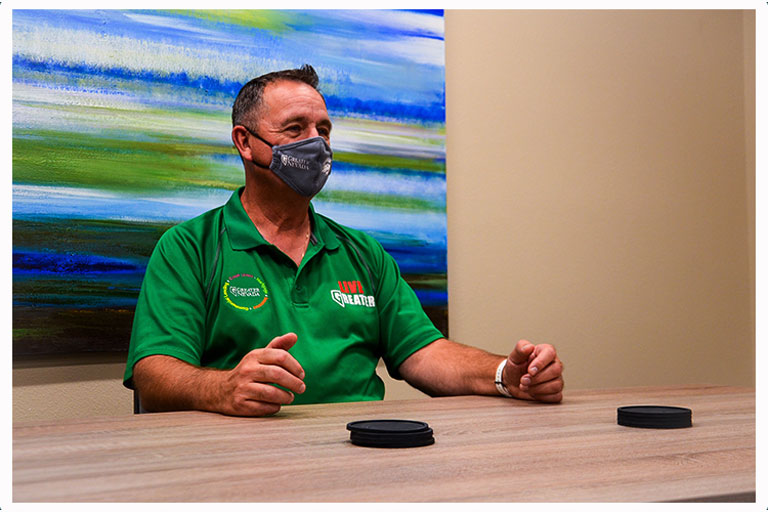 It seems like decades ago since the COVID-19 pandemic first began impacting our communities in Nevada and California. In the months since March 2020, all of us have experienced a lifetime's worth of change. This is the first interview in a two-part series with Greater Nevada Credit Union's President and CEO, Wally Murray.
Throughout these challenges, our team at Greater Nevada has been diligently following our North Star—our passion for Helping More People Live Greater. For a perspective on how the entire Greater Nevada family adapted in the early months of the coronavirus, I sat down for a chat with our other north star—President and CEO, Wally Murray. Over the past 30 years, Wally has guided Greater Nevada through many economic crises and recessions, as well as periods of economic growth and stability. His straight-forward, caring, and honest insights are in the slightly edited conversation below, which is the first of a two-part series.

When the COVID-19 pandemic started happening, what were your first thoughts and your approach to pulling our entire Greater Nevada family together?
Wally: My first thoughts were about society in general and what it was going to look like. I started thinking about all the facets of it. We're a people business. So, I started thinking about the impact on our people, members, employees, and communities. There was nothing known at that point in time, and there was no real playbook for it.
All the Greater Nevada companies came together. There was certainly never any bickering or infighting. Everybody understood the serious nature of it and did a great job of assessing the potential impact on their parts of the business. That was of paramount importance to everyone. The board of directors did a fantastic job mobilizing and ensuring that the management team had the runway to do what was necessary to protect the people. We eventually thought about the business, but the first thought was always about the people.

How do you think Greater Nevada's passion for Helping More People Live Greater guided our response to the crisis?
Wally: Helping somebody live greater took on a whole new meaning. Living greater for some people meant simply being able to continue to live! Our passion statement is always at the forefront of my thinking, as well as the thinking of many of our Greater Nevadans. How we went about doing that certainly took on a whole new view and a whole new meaning.

We serve many different people, including businesses and individuals located in Nevada, California, and beyond. How did you keep all of those people in mind as you were making decisions?
Wally: It was a total team effort across the board. Like I mentioned earlier, everybody understood the domino impact within their part of the business far more quickly than I did. And there was never a question of, "When do we start helping?" Or, "How much help do we provide?" We just dove in and helped. That's what we do. Ultimately, that's what led to how assertively we jumped into the Paycheck Protection Program. Once the Small Business Administration announced it and launched it, we made a commitment. That's why, in the first full month of the program, Greater Commercial Lending processed $566.4 million in PPP loan applications for businesses nationwide.
We knew businesses were being impacted. That meant people's employment and livelihoods were in jeopardy. It was clear the situation would have dire effects on the economy locally, nationally, and internationally. Processing those PPP applications so quickly was one way to answer the call to help others. It was not the only answer, but one of the answers. Another example is how our board quickly supported our proposals to offer extremely low rate emergency loans to new and existing members and a variety of fee waivers to help folks through these times.

Philanthropy and volunteerism are at the core of what we are and who we are. How did you see these values grow or take on a new meeting during this crisis?
Wally: We shifted more from volunteerism to philanthropy. We generally try to do a mix of both because our people are rightfully very proud of what they do within our communities. But it was a tough time to ask our Greater Nevadans to get out in the communities due to safety concerns. I know there were individuals who volunteered on their own time, but we couldn't really mobilize people in that way from a corporate perspective. That was unsafe, so we would never ask that, as much as we believe in volunteerism. We took a different approach by matching up what we could do with our checkbook with individual causes.

What are you most proud of when you think about Greater Nevada's response initially chaos of the crisis?
Wally: I'm most proud of our people and their flexibility and their adaptability—not only their ability—but their willingness to look beyond themselves. They did so time and again even at a time when a number of them had tough situations going on in their own lives and their own families. Everybody was impacted in one way or another. There was uncertainty and doubt across the board. But I'm so proud of our people. By and large, the vast majority just said, "We get it. We understand. What do we need to do?"
It would be difficult to fully capture all the ways we looked to help people and businesses impacted by the pandemic. We already touched on the volume of PPP loans we took on. That helped saved more than 17,000 jobs here in Nevada alone. And thousands more individuals and families have saved on their monthly expenses by taking advantage of our historically low interest rates to purchase homes and vehicles or refinance their existing debts. Meanwhile, we have continued to offer an incredibly high rate on our Aspire checking account. We are keenly aware that the impacts of COVID-19 will be here for many months and years into the future. I can't say with certainty what our responses will be, but I know in my heart that Greater Nevada will continue to make meaningful differences in our members' lives and in the communities we serve.

This is the first interview in a two-part series with Greater Nevada Credit Union's President and CEO, Wally Murray.