Plan a Family Vacation With Get Away Today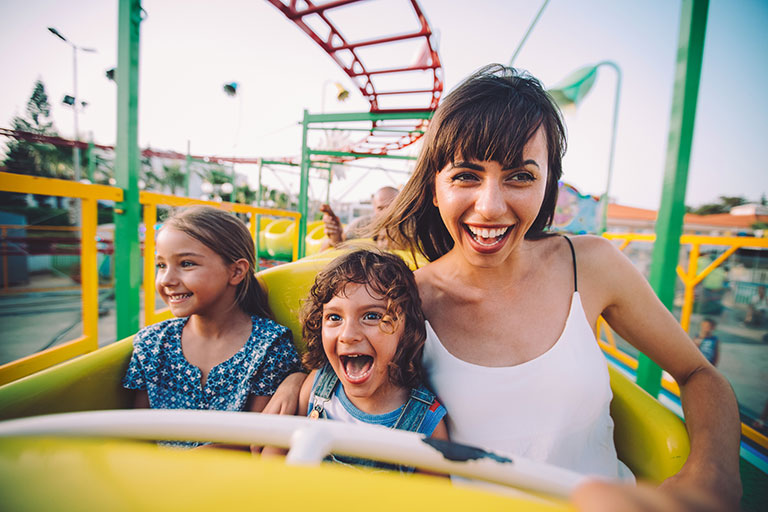 How To Plan a Vacation on a Budget With GNCU Perks
School's almost out for the summer, so the pressure is on for parents to plan an epic family vacation. But if you're on a budget, you could be dreading the thought of planning a family trip as much as you dread tax time.
But don't stress – there are plenty of ways to have a fun family vacation on a budget. First, figure out your budget and then use trip-planning tools like the Get Away Today trip planner to set money aside and get the best deals on travel.
Create a Vacation Budget
Family vacations can be expensive, so preparing a budget is necessary. On average, Americans spend $1,145 per person or $4,580 for a family of four for a vacation, according to American Express data. There's plenty to consider: Airfare, ground transportation, lodging, meals, and entertainment.
If you're planning a family vacation six months in advance, you can book your flights first, later pay for the hotel and then save up for food and theme park tickets if that's what you have in mind. Saving for a trip for a family of four for a year will cost your monthly budget about $400.
Another option is to use an all-inclusive trip planner like Get Away Today, a GNCU partner, to book all-inclusive trips to Mexico and Hawaii – or a cruise. Booking packaged travel is a fantastic way to save money on a trip, and you typically can put down a few hundred dollars toward a future trip and then begin to save up every month.
With Get Away Today's layaway plan, you can reserve a 2023 Disneyland vacation for $200 down and then pay as you go, with the final payment due eight days before travel. And don't forget to add theme park tickets to your budget if you're planning a Disneyland or Disney World trip.
Vacation on a Budget Using Credit Card Rewards
Credit cards with travel rewards are a great option if you have good credit and want to take a vacation on a budget. Travel rewards cards like the Mastercard Travel Rewards+ Card and the Mastercard Reserve Rewards+ Card offer points on travel must-haves – think dining, gas, travel, and entertainment.
The Travel Rewards+ card offers four times unlimited points on dining, two times unlimited points on groceries and gas, one-to-one points on other purchases, and 15,000 points ($150) when you spend $500 in the first 90 days.
The Reserve Rewards+ card offers four times unlimited points on travel, gas or EV charging, entertainment, and recreation, one-and-a-half times unlimited points on other eligible purchases, and a $250 bonus reward (25,000 points) if you spend $2,000 in the first 120 days of account opening.
If you plan months in advance, you can open a travel credit card in the months leading up to your trip. Set up autopay for a few large bills and earn bonus point rewards that can be used to plan that family vacation.
Another thing to check into with credit cards — they typically offer some sort of rental car insurance if you book the entire rental on a credit card (not a debit card). Check with the bank that issued your credit card to see what type of protection you might have.
Vacation on a Budget Using Get Away Today
Family vacation on a budget at Disneyland, you say? It's possible. Get Away Today has vacation packages to Disneyland Resort, Walt Disney World, Universal Orlando, SeaWorld San Diego, Universal Studios Hollywood, Disney Cruises, Legoland, and Disneyland Paris.
Here are a few theme park resort specials:
Disneyland Family Vacation
Here are a few of the Disneyland specials offered by Get Away Today:
Disneyland concierge services
Get a third or fourth night free at select Anaheim hotels
Discount tickets
Discount group travel
Make it a road trip if you're trying to save money on a Disneyland vacation. Hit the U.S. 395 and head south. Book a hotel close to Disneyland – within a mile – and use it as a home base. Make sure it has a pool so you and the kids can give your feet a break from the miles you'll walk at the park. Staying at a close hotel will save you a ton of money over staying at a Disney hotel.
Don't forget to get Disneyland tickets with a Genie+ pass – you'll save a ton of time waiting in line. Finally, don't forget to buy your tickets and book a Disneyland reservation. The reservation is free – the ticket isn't.
Finally, consider booking a family vacation during the off-season – you'll surely get the best deals this way. Or get creative – book a camping trip when everyone's heading to the beach for spring break and book a Disneyland vacation over the holidays. Check out our Living Greater blog for more financial advice and travel tips, check out our Live Greater blog.