Using a Debit Card versus Credit Card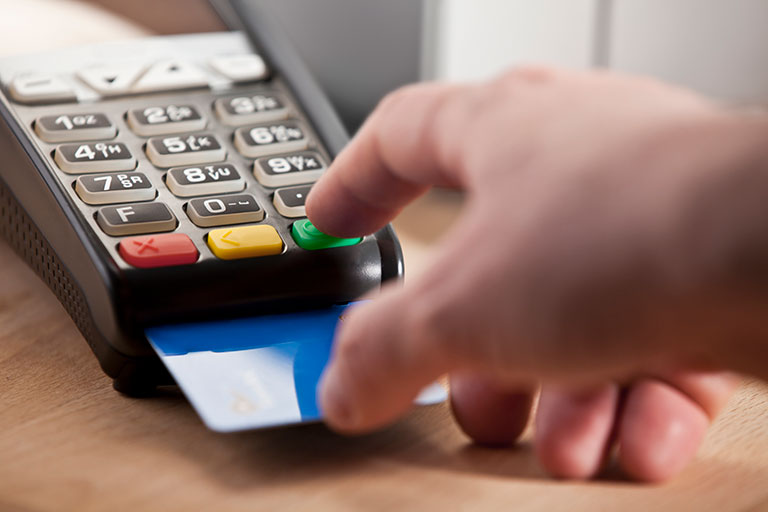 Most financial institutions offer both debit and credit cards. Debit cards (also called bank cards) are typically tied to a checking account and are an alternative to writing paper checks.
Credit cards on the other hand are like short term loans. You pay for the entire amount, but the money is not taken from your checking account. Instead, you get a statement at the end of the billing period with a summary of what you have charged to your card, and the minimum amount you must pay.
So what's a better way to pay?
Debit cards can help control spending, because what you have in your checking account is what you can afford. For instance, an exotic vacation may seem like just what you need, but the reality is that you don't have the money in your credit union or bank account to pay for it. So, you may get more creative about inexpensive ways to staycation without stretching yourself financially.
What if an unexpected expense, like a car repair, pops out of nowhere and you don't have the funds in your checking account to pay? A credit card is certainly a good way to cover that for the short term, especially if you know you'll be able to pay off the amount quickly. For longer term payments, it's better to look at a lower rate loan, such as a personal loan, to avoid the higher interest rates typically associated with credit cards.
There are some transactions that are better to pay with a credit card – such as car rentals, hotel reservations and fuel purchases. In some cases, if you use a debit card for these transactions, a certain amount is placed on hold or in reserve and may affect your available balance.
Some people also prefer one card over the other for the rewards they can earn. For instance, when using Greater Nevada's debit cards, the associated checking accounts offer rewards such as higher earnings and online purchase rebates when monthly qualifications are met. The debit card can also be used at more than 30,000 fee-free ATMs nationwide, or you can ask for cash back at many merchant locations without any additional fees. The debit cards are also protected by GNCU's Zero Liability policy.
Greater Nevada's credit cards also offer rewards, such as cash back. Plus there are options for those building or re-establishing a credit history. The card also offers security features that protect against fraudulent use. Cash advances are also available, but there are typically fees for withdrawing cash from your credit card account.
Tips for Using a Debit Card
Know your current bank account balance and available funds, including withdrawals that are still pending, to avoid overdraft fees. Tools like account alerts provided by your credit union or bank are great for this.
Keep sales and ATM receipts or copies, and review them against your monthly statements. If you suspect a mistake or fraudulent use, contact your financial institution immediately.
Check which ATM networks will let you use your debit card at no additional fee.
Never share your debit card Personal Identification Number (PIN) with anyone!
To learn more about debit cards, check out this practical money guide.
Tips for Using a Credit Card
To avoid paying interest, it is always smart to pay your balance off in full every month.
Sign up for transaction alerts to help monitor against fraudulent activity. If you see a false transaction, contact your credit card provider immediately.
Pick a card that offers maximum rewards for your lifestyle. Your friend may get great rewards with their airline credit card if they fly a lot but if you're not a big traveler then you should opt for a card that will generate rewards based on your way of life.
Review your statements carefully each month. While it's important to catch fraudulent charges, it's also important to review you charges for other mistakes. For example, most everyone has a subscription for something whether it's for TV, music or a gym membership. Make sure you aren't being doubly charged for a subscription or getting renewed automatically for something you don't want.