What is Person-to-Person Payment?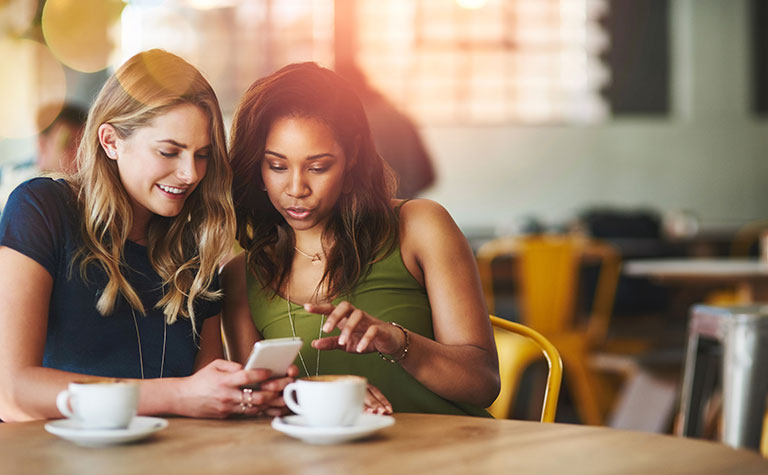 Person-to-person, or a 'P2P' payment, is a term you may have heard in conversation or mentioned in passing. This new form of payment is a way to send or request money from your friends and family, or pay bills via an app faster and easier.
P2P payments are a secure way to send money and let you transact without sharing your account information with the other person. As an added bonus, the system tracks your transactions so you don't have to think about manually adding or subtracting amounts later. Also, you can choose how quickly the payments go through to help you manage the money in your account.
As an example of a P2P process, let's say you and your friend Tom have gone out to lunch and you forgot you were out of cash. To split the bill, you enter your friend's phone number or email address into the app along with the amount you want to send. You can add a note-to-self that this was for lunch at your favorite bakery, and even add a personal message to your friend about how much you loved seeing them and can't wait to do this again. You hit send, and your message goes to Tom. If Tom already has the app, he can accept the transaction and the money is then deposited into his account. If Tom doesn't have the app, then he is provided quick and easy setup instructions on for install and adding his information, securely. Voila! The money is deposited into his account. After Tom's initial signup, the money will transfer with the click of a button.
Signing up and transferring money with a P2P payment system is simple and efficient. Pay back a friend for dinner, chip in for a birthday gift, pay a bill, the possibilities are endless.
Get Started with an Easy P2P Payment Option
At Greater Nevada Credit Union (GNCU), we have a P2P payment option called Popmoney®.
Popmoney allows you to pay or request money from a contact by email or text, and you don't have to set up your account information because it is already part of your included GNCU account services through online and mobile banking.
With Popmoney, you can go above and beyond sending and requesting money from a single contact. If you need to send or request money from multiple people, you can setup a group request while still maintaining each individual's privacy. For instance, if you and a group of your friends decide to pool your money for a wedding gift, and each person is chipping in $20, you can send an individual request to each person. If you have different amounts that each person is contributing you can enter in those custom amounts for each person. Each request is sent separately to each individual for privacy.
Another functionality of Popmoney is it allows you to send customized emails for special occasions like weddings, birthdays, graduations, and other events. For instance, if you have a son or niece with a birthday coming up, instead of sending them money in a card, you can send them a special birthday message through Popmoney!

When you send money to anyone it will be transferred to their account within three days of them accepting the transaction. If you send money to someone who also has a GNCU account then you can do an instant transfer to get the money to them immediately.
Where can you find Popmoney?
If you want to use Popmoney you can access it online or through a mobile device. To find it online go to gncu.org and log into eBranch. Once you're logged in, click on "Payments" in the top menu and then "Bill Payments" in the side menu. Finally click on "Popmoney" in the left side menu to send or request money.

There are a variety of applications available through Popmoney that can make your personal payments and bill payments easier to manage. At Greater Nevada Credit Union, we are always striving to help more people live greater and Greater Nevada's P2P application, Popmoney, does just that.
If you prefer to work in mobile you can log into your GNCU mobile app, select "Payments", then "Pay a Person".