How to Empower Your Community by Banking with a Local Credit Union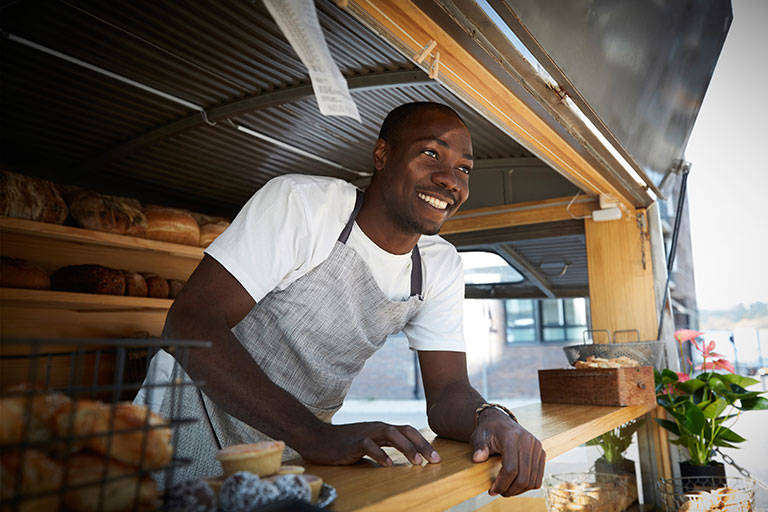 If you shop locally in support of your community, we've got another way you can use your wallet to make a difference—banking at a local credit union.
Think of it like this: the Great Basin Community Food Co-op in downtown Reno is owned by dedicated community members who pool their resources to supply the freshest, healthiest products from nearby farms and distributors. Maybe we're biased, but a cantaloupe grown in our local food system tastes better than one shipped in from a thousand miles away—especially when you know that by purchasing it, you're helping a local farmer.
Like the Buy Local movement, which encourages people to buy from, eat at, and support local businesses owned by friends and neighbors who care about the community's long-term health, banking local is based on the same philosophy. By becoming a member of a local credit union, you know that your money is close to home and can positively impact your community.
Local Credit Unions vs. Community Banks
Local credit unions and community banks share a mission to serve their communities and those living there. The key differences between the two are that credit unions are:
Member-owned: You get a say in how a local credit union does business.
Not-for-profit: Credit unions routinely reinvest profits back into their membership and communities.
Cooperative banking institutions: Credit unions often times offer lower fees, higher savings rates, and attractive loan rates.
Bottom line: Credit unions offer the same financial products as big banks and the same peace of mind that your money is safe and available whenever you need it. But, when you become a credit union member, you become a part of something bigger—think of it as starting a bank with all your favorite people.
How Joining a Local Credit Union Can Help Your Community
Every weekend after Thanksgiving, #SmallBusinessSaturday trends on social media, encouraging shoppers to keep their purchases local. And it works. For every dollar spent at a small business, 67 cents stays in the local community. Plus, small businesses donate 250% more to local nonprofits and community causes than their corporate counterparts.
The same goes for local banking. While large banks make more loans and investments in other states and countries, local financial institutions are more likely to fund small businesses and agricultural loans for nearby organizations. When you bank locally, your money is invested in growing your community's economy and providing loans to your neighbors.
Some other ways local credit unions, help their communities include:
Community Sponsorship
Greater Nevada Credit Union supports multiple community improvement events and programs each year. We're proud to sponsor Reno's Greater Nevada Field (Go Aces!) and the positive impact of athletics. In 2021, Greater Nevada employees picked up more than 11 pounds of trash from Lake Tahoe's beaches as part of the annual July 5 community cleanup day. Community investment like this comes from the ideas of our members, who all live and work nearby and know what kinds of projects can make life better for their fellow Nevadans. For example, our members have helped us organize local food drives and helped homeless youth find homes.
Rural Services
Nevada is a vast state with many rural communities—some drastically underserved by traditional banking options. Local credit unions are the only source of dependable financial services for many. What's more, credit unions can help rural businesses stay on their feet when times get tough. This was especially true in the early days of the COVID-19 pandemic, when Greater Commercial Lending, part of the Greater Nevada family, helped bring more than 5,900 Small Business Administration Paycheck Protection Program loans to fruition, totaling more than $583 million. That includes more than 2,100 loans to Nevada-based companies for more than $137 million, which funded more than 17,200 jobs—many in some of the state's most vulnerable small communities.
How Joining a Local Credit Union Can Help You
As much as we'd all like to be 100% altruistic, the decision of where to bank also comes down to a slightly more selfish question: "What's in it for me?" Here's the great news: by banking with a local credit union, you also get a ton of benefits, like:
Get Local Insight and Advice
Put it this way, if you're buying a house in Henderson and have questions about your mortgage, would it make you feel any better if you picked up the phone and your banking representative answered from their branch in Pennsylvania? Local credit unions provide people with reliable, personalized financial advice that's specific to where they live and what they need. Greater Nevada handles everything from investment advice to student loans, retirement savings, and more. Our members know that any time they need help, they'll find it from someone who knows the challenges and opportunities unique to their community. Your financial planner might even end up being from the same neighborhood!
Find Lower Fees (Or None at All) and Attractive Rates
As not-for-profit organizations, local credit unions can often times minimize fees and offer lower loan rates compared to traditional banks. Higher interest rates on savings, checking, and CD accounts are a common perk of banking with credit unions. Most credit unions also offer checking accounts with a $0 monthly service charge if qualifications are met.
Sounds Too Good to Be True: A Bank That Pays You!
Credit Union members can be eligible for dividends on top of the standard interest rate. In contrast to banks, whose investors and stockholders receive dividend payments, a credit union's members are also its owners and stand to benefit from the cooperative's success.
Choosing a Local Credit Union Means Being Proactive About Your Community
When you shop locally—whether it's a bakery, boutique, or even a band—what you're saying is you care about the people behind the scenes and believe what they're doing has value. When you join a local credit union, you send the same message by banding together with your fellow Nevadans to make a difference.
Want to be part of something Greater? By becoming a Greater Nevada Credit Union member, you can have a voice, invest in your community, and get all the financial tools you need. Learn more about joining today.