Greater Nevada Credit Union Announces Board of Directors at 74th Annual Meeting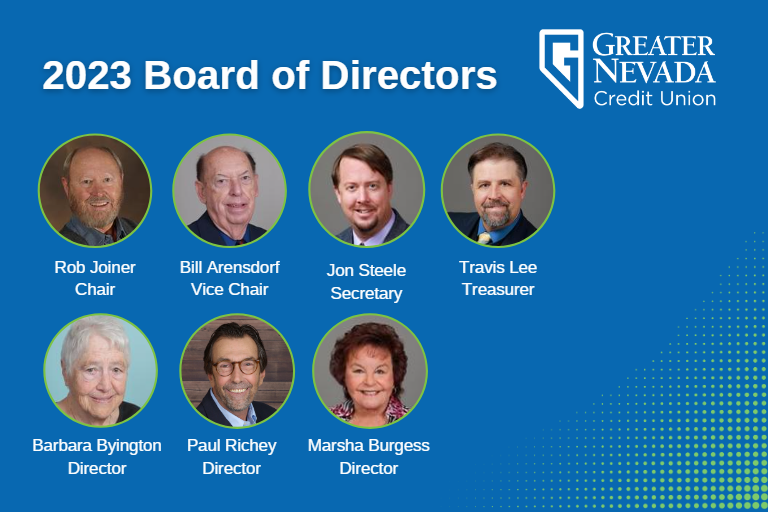 Greater Nevada Credit Union (GNCU) held its 74th annual meeting virtually on Tuesday, March 14, to announce the results of its Board of Directors election, give voice to members and recognize those who have held membership at the credit union for 35 years.
At the meeting, Chairman Rob Joiner and Director Marsha Burgess were reappointed to the GNCU Board of Directors and each will serve in their respective positions for another three-year term.
The full Board of Directors are:
Chair Rob Joiner, GNCU member since 1984
Vice Chair Bill Arensdorf, GNCU member since 1972
Secretary Jon Steele, GNCU member since 1997
Treasurer Travis Lee, GNCU member since 2011
Director Marsha Burgess, GNCU member since 1975
Director Barbara Byington, GNCU member since 1983
Director Paul Richey, GNCU member since 1979
The Board also acknowledged Emeritus Director Alex Talmant. This was Talmant's final year of service to the credit union as an Emeritus Director, and he has been an incredible volunteer for well over 20 years. During that time, he has served in a variety of capacities, including a stint as the Chair of the Board of Directors.
GNCU's Board of Directors is comprised of member-volunteers who dedicate their time and expertise to the betterment of the credit union and its subsidiaries, Greater Nevada Mortgage (GNM), Greater Commercial Lending (GCL), Greater Nevada Insurance, and Greater Nevada Financial Services.
In 2022, another 445 members surpassed the 35-year membership milestone, joining the ranks of 2,451 other members, with each receiving a customized gift as appreciation from the credit union for their long-standing dedication and loyalty.
The Annual Meeting also highlighted key successes and important factors that will guide the strategy of Greater Nevada Credit Union over the next year including:
In the face of recent banking industry challenges, Greater Nevada highlighted what makes the institution different from banks recently taken over by the U.S. Government. Notably, having a diverse base of members and ensuring the stability of the credit union's investment portfolio.
Membership reached more than 85,000 with total assets approaching $1.8 Billion at the end of 2022.
Recognizing employees for delivering excellent member service and their contribution of almost 5,000 volunteer hours to various community organizations during 2022.
Total GNCU charitable giving of more than $662,000 in 2022.
A full copy of GNCU's 2022 Annual Report highlighting the credit union's accomplishments, member and community impact, and financial reports may be viewed by clicking here.