Greater Nevada Credit Union Serves as Drop-Off Locations for 2023 Movers for Moms Donation Drive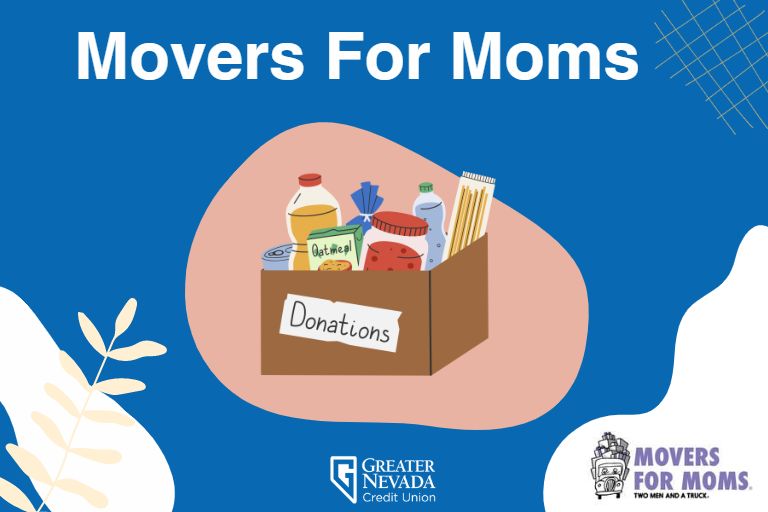 Working With Two Men and A Truck
The community is being asked to support women escaping domestic violence by donating supplies at a Greater Nevada Credit Union branch in Reno and Sparks during this special campaign. Two Men and a Truck organizes the Movers for Moms program across the country each year. Locally, donations will be gathered for the Domestic Violence Resource Center (DVRC), benefitting women living in compromised situations. The drive will take place starting Monday, April 3 through Thursday, May 4, 2023, the community is encouraged to drop off donation items to all Greater Nevada Credit Union (GNCU) Washoe County branches.
In 2022, the national Two Men and a Truck Movers for Moms campaign collectively gathered over 266,000 donations for women in need on Mother's Day. Since Movers for Moms started in 2007, nearly 2,000,000 items have been donated to shelters to help moms in need.
Donation items should be new. Items needed include:
Diapers – sizes 4-6 and pullups
Underwear – all sizes and genders
Cell phone chargers
Shampoo, conditioner, body wash, luffas
Bathroom towel sets, bathmats and shower curtains
Twin, full and queen-size waterproof mattress protectors and linens
Backpacks and luggage
Non-glass durable dish sets and cups
Microwavable meals (non-refrigerated)
Individual electrolyte drinks, bottled juice/water
Individual servings of oatmeal, pudding, applesauce, crackers, chips, pretzels, popcorn, protein/granola bars
$30 Walmart and/or Target gift cards
Items may also be purchased online for donation if you can't make it in person through the DVRC's Amazon Wish List.
"It is so easy to forget that sometimes the littlest things make a huge difference in someone's life. We genuinely appreciate the efforts being made by our local Two Men and a Truck franchise to gather these essential items that make the stay for families in a temporary shelter or living situation more manageable. We encourage our members and the community to come out in support of moms in need across the region," said Michael Thomas, senior vice president of communications at GNCU.
"Two Men and a Truck Reno is honored to be partnering with GNCU for our annual Movers for Moms initiative benefiting the Domestic Violence Resource Center," said Alexis Riggs, franchisee and vice president of Two Men and a Truck–Reno. "Greater Nevada exemplifies what Movers for Moms is all about, bringing value to life so we can live our best life. By supporting this drive and the DVRC, we are empowering victims of family violence who need a little help to safely rebuild hopeful lives. We all benefit when we reach out to help those in need in our community." For more information about Two Men and a Truck visit, twomenandatruck.com.