An Alternative to Payday Loans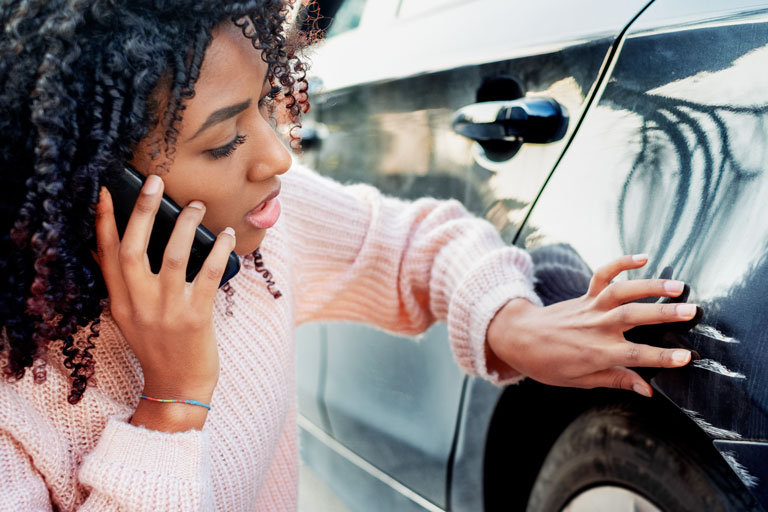 Sometimes you just need a little extra cash. Maybe your car broke down or you were injured and need help covering your deductible. For these unexpected moments in life, we've created the Right Now Loan™.
It's an alternative to payday loans designed to get you the money you need right now, without trapping you in a cycle of debt. These loans are available online, 24 hours a day, and $200 to $2,000 can be deposited into your account within 60 seconds of finishing the application.
Here are the highlights of the Right Now Loan:
Borrow $200 to $2,000
Apply online, get approval within a minute
No credit check required
The money is deposited into your account after approval
Payback the loan within 6 months to 1 year, depending on the amount you borrowed.
"It's an outside-the-box product that does not look at credit or financial history, but our relationship with the member," Marcus Wertz, Chief Lending Officer, said.
Right Now Loans, For Right Now Problem
Only 44% of Americans have enough saved to cover an unexpected expense of $1,000, according to Bankrate. We can understand why people turn to payday loans for help, as they can mean the difference between getting your car fixed or not being able to transport yourself to work.
However, payday loans can trap people in a cycle of fees and reborrowing, that can take a while to dig out of. So, we wanted to give our members a way to quickly borrow money for emergencies, while giving them enough time to pay back the loan without piling on fees.
"Right Now Loans have extended repayment periods, we limit the number of loans GNCU members can get to avoid debt traps and give financial literacy training to borrowers when applicable," Wertz said. "They are relationship-based and reasonably priced."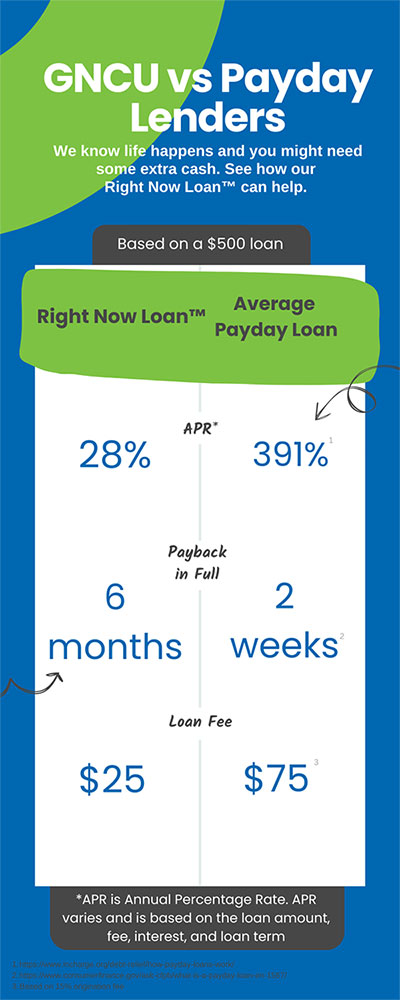 The Right Now Details
The Right Now Loan is a good way for people with little or challenging credit scores to get quick access to cash.
We do not check credit scores to qualify you for a loan. All your accounts must be in good standing, meaning your accounts do not have negative balances and you have regular depository activity into them, like a direct deposit from your job. You also must be at least 18 years old and have been a member of GNCU for at least 90 days.
When it comes to these loans, we want to be transparent and above all, a good partner for our members. Right Now Loans come with a 28% fixed interest rate*. Also, a $25 processing fee applies for loans from $200 to $1,000 and a $40 processing fee for loans from $1,001 to $2,000. That's it!
Payback times depend on the amount borrowed. For loans between $200 and $1,000, borrowers have 6 months to pay off the balance and 12 months for loans more than $1,000.
We wanted to create a loan product that is not based on credit history, rather our relationship with members. We hope the Right Now Loan™ will allow members to deal with those surprises in life without getting stuck in continuous cycle of high interest debt.
*Right Now Loan™ applications are subject to review of eligibility and approval. The Annual Percentage Rate (APR) for a Right Now Loan™ is 28.00% as of July 25, 2022, and is a fixed rate for the duration of the loan. For example, a Right Now Loan™ for $1,000 with a 12-month term (1 year) at 28.00% APR will have a monthly payment of $96.51. Other terms, payments, and loan amounts are available. The minimum loan amount is $200, and the maximum loan amount is $2,000. Eligible members must be at least 18 years old and have been a member with the credit union a minimum of 90 days. No minimum credit score required. If approved, a $25 Application Processing Fee will be incurred for loans from $200 to $1,000, and a $40 Application Processing Fee for loans from $1,001 to $2,000. Please view the terms of your GNCU Account Disclosure. If your Right Now Loan™ payment is 11 or more days late, then there is a Late Payment Fee of 5% of the payment due. Applying for a Right Now Loan™ is not available in branches; it is only available through Greater Nevada Digital Banking.