Back to School To-Do List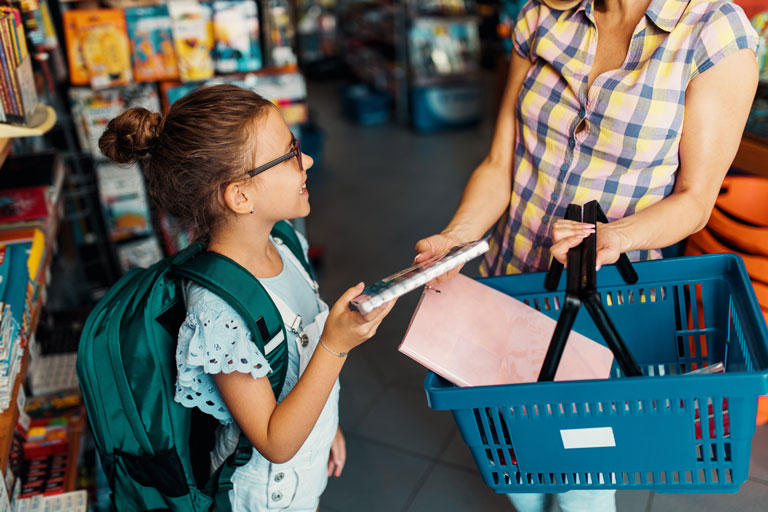 It's that time of year, when parents send their children back to school. Some students may be attending a new school while others may be transitioning to a new classroom, but for all students a new school year is as exciting as it is nerve-racking. To help calm their nerves, try out the following five tips.
Tour the school.
For students of all ages, showing up on the first day of school to an unfamiliar place can be a scary experience. Whether you're a college freshman or a first grade student, being thrown into a new campus or classroom can be rough. A great way to alleviate some of the fear is to take a tour of the school. Most colleges invite prospective students to visit the campus for a guided tour. For younger students, we suggest that they attend the "open house". Typically, a school's open house allows students to meet their teachers, find out which of their friends are in their classes, and to familiarize themselves with the hallways that will house them five days a week.
For those who will be new college students, it is also a great time to start building your own credit since you'll be experiencing new responsibilities and independence. You'll want to practice responsible spending while using your first credit card and never charge more than you can afford to pay. Finding the right credit card is important for every student so be sure to do some research before making your decision.
Slowly start a routine.
The days leading up to the first day of school are a perfect time to start preparing yourself or your children for the daily schedule that they'll experience going forward. The first thing is to establish a wake-up routine. Have an alarm set in the morning and make sure enough time is allowed for a good night's rest. Next, start planning out meal times. Summer can throw off eating times because of the longer days, family trips and outdoor activities. If you gradually create a schedule for breakfast, lunch, and dinner you'll have an even easier transition into the approaching academic year.
Update medical records.
Most schools will inform you if they need updated immunization records. It's a great idea to contact the school ahead of time and be proactive. The weeks leading up to the first day of school can get hectic, and doctor's schedules can fill up fast. If you need to get into the doctor, it's better to do it sooner rather than later. Plus, it's always good to get a check-up even if shots are up to date.
Review materials from last year.
After two or three months of summer break, getting back into the grind can be challenging. A great way to combat the summertime lull is to start reviewing last year's materials before this year's classes commence. Start the review process slowly by easing into some of the simpler materials. It's good to get the brain warmed up for the upcoming school year. By the time classes actually start students should feel fresh from their summer break but also be ready to learn.
Set goals for the coming school year.
Once you've reviewed materials from last year you should set goals for the year going forward. Where do you want to see yourself or your child at the end of the semester? Discussing goals before the first day of school can be a good idea. One goal may be to become more involved in school activities and programs or to start an internship. At Carson High School for instance, students have the option of taking the banking internship class. The class takes place in Greater Nevada Credit Union's educational branch where students have the opportunity to receive real-world job experience, earn class credit, and learn how to manage money. If you aren't a Carson high student, but want to expand your money management skills, you still have the opportunity to take free financial education classes through Greater Nevada Credit Union's Financial Education center. Students of all ages can take fun, informative classes that teach them about everything from basic banking subjects to more complicated subjects like student loans.
The start of the school year means another opportunity to make new friends and expand your knowledge. Don't let the time leading up to the new academic year stress you out. We hope these five tips will help make the coming school year a little easier.
Are you excited for another school year? Share your thoughts with us on our Facebook page!