Be a Savvy Back-to-School Shopper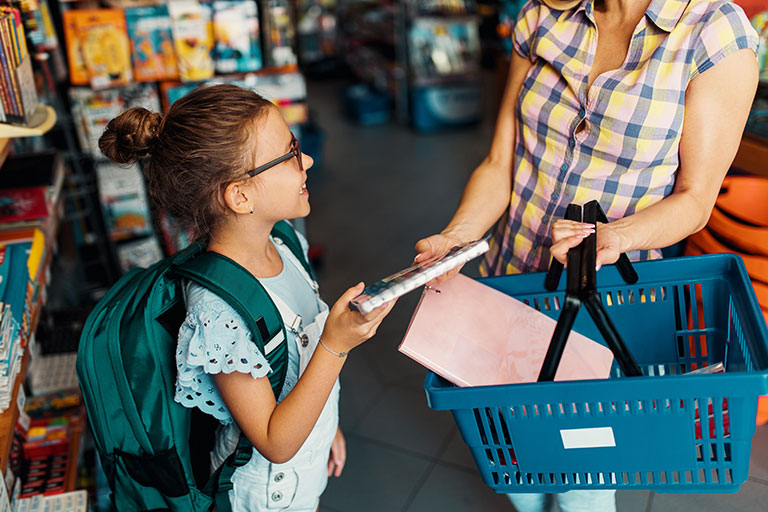 Back-to-school shopping is the second largest consumer spending category after holiday shopping. Once you combined school supplies with other expenses—such as clothing and electronics—a family could easily spend between $600 and $1,000.
But here are some tips to get your child ready for school and save money.
Include back-to-school shopping on your annual household budget. If you don't have such a budget, then look at what you spent the prior year and start with saving up at least that amount. It might not cover your entire shopping bill, but it might make a large dent in it.
See what your child has already. That will help you to only buy what is needed; no unnecessary items or impulse buys.
Spread out your purchases. Stores are having back-to-school sales earlier and earlier. Use this to your advantage by buying things little by little throughout the summer. It also helps you avoid the back-to-school shopping madness (which is often not unlike the holiday shopping rush).
Look for end-of-summer sales. This is particularly true for clothing. It might mean waiting until after school has started, however. If your child is like most children—who want to show off their newest clothes on the first day of school—consider buying one outfit for just that occasion. And then wait until September or October for the rest. Your kid will look great and you'll still save.
Use social media to your advantage. Monitor your favorite stores' social media accounts and sign up for coupon links and advance notice of sales.
Forget pencils, concentrate on the biggest expenses. There are always deals on pencils at nearly any store. But good deals on electronics, backpacks, and even calculators? Those are not always plentiful. So, when you do find a good deal, take it!
Consider an exchange. You could cut down on expenses by trading or exchanging items—including clothing—with your child's class parents, friends, or neighbors.