Best of Northern Nevada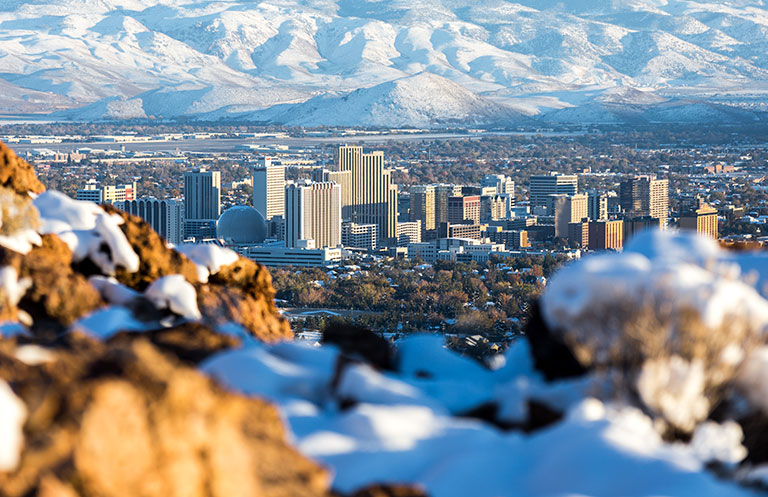 Reno News & Review (RN&R) has just commenced its "Best of Northern Nevada" campaign to celebrate the businesses, events and places that make us proud to call northern Nevada home. At Greater Nevada Credit Union we love to support the communities we serve and in honor of the "Best of Northern Nevada 2017" awards we wanted to share a few of the events and places that make this region great.
Northern Nevada Events
1.Rollin' on the River
If you love music and enjoy the beautiful scenery that the Truckee River has to offer then you will love the Reno's Artown concert series. We enjoy this event so much that we're sponsoring it once again! Every Friday in July, thousands of northern Nevadans join together to support local bands at Wingfield Park in downtown Reno. Located right on the river, this mini music festival is one of the many fun events you can go to this summer.
2.GE Family Concert Series
The GE Family Concert Series is a big summer draw in Douglas County. The concerts are held at the beautiful Minden Park and are free to attend all summer long. The next performance is July 14 and features the Eagles' cover band, Peaceful Easy. For a full list of upcoming concerts, visit Douglas County's website. Greater Nevada Credit Union is proud to sponsor such a wonderful event.
3.Taste of Downtown Carson
On July 22 this year visitors in the newly transformed downtown Carson City will gather for Taste of Downtown to support an important cause and enjoy great food, music and more. All proceeds from the event help support Advocates to End Domestic Violence. Greater Nevada will be in attendance so be sure to stop by our booth.
4.Star Spangled Sparks
Star Spangled Sparks is one of the most incredible places to celebrate Independence Day in northern Nevada. This year, the celebration begins on July 1 at Victorian Square with an "All-American Block Party & Fireworks Show" from 4 p.m. to 10 p.m. Be ready to experience live music, crafts, food vendors, BBQ, a free fireworks show from the Nugget rooftops and more. Then on July 4, get ready to do it all over again with more live music, crafts, food vendors, a patriotic bike parade, and another spectacular fireworks show. This is one event that you sure don't want to miss!
Northern Nevada Places
1.The Discovery Museum
What started as a children's museum has quickly turned into a high quality science, technology, engineering, art and math (STEAM) learning hub. The Discovery Museum is a place that gets kids and adults excited about history and science with hands-on programs and exhibits, and always something new to explore. Through January 15, 2018 the museum is home to Sue the T. Rex. Unearthed in South Dakota in 1990, Sue is 42-feet-long, 12-feet-tall and 3,500 pounds. Be sure to visit before Sue moves on early next year.
2.Greater Nevada Field
Home to Reno Aces baseball and Reno 1868 FC, Greater Nevada Field is at the heart of downtown Reno. Enjoy  a fun filled outing and promotions hat giveaways, discounted food and drinks, and the always popular Greater Nevada t-shirt toss. If you haven't been to an Aces game or an 1868 FC match, check out their schedules and if you're a Greater Nevada member you can get access to special events and ticket discounts all season long.
3.Mackay Stadium
Home to the Nevada Wolf Pack, Mackay Stadium comes alive when the University of Nevada, Reno fall semester rolls around. Fans come out full steam to support Wolf Pack Football and the experience is amplified with performances by the Wolf Pack Marching Band. Greater Nevada Credit Union has been a proud sponsor of the Wolf Pack Marching Band for years, and we'll be at all of the home football games again this season to help raise funds for the band.
4.Lamoille Canyon
Nevada isn't known for its lush greenery but if you take a trip up north to "cowboy country", you will find lush landscape that makes you forget that Nevada is a desert. Lamoille Canyon is home to the Ruby Mountains, Nevada's wettest mountain range–known world-wide for its beautiful views. If you're looking to get in touch with nature, take a trip up north and experience all of the fishing, biking, and hiking that Lamoille Canyon and the Ruby Mountains have to offer. With over 100 miles of hiking trails, this back country getaway will quickly become one of your favorite Nevada landscapes. You can even experience heli-skiing and stay at the new Ruby 360 Lodge, funded by the Greater Nevada Commercial Services team.
If you live in or frequently visit Northern Nevada share your favorite places and events with us on our social media. And don't forget to cast your votes in the "Best of Northern Nevada 2017" awards!