Cheap and Easy Home Improvements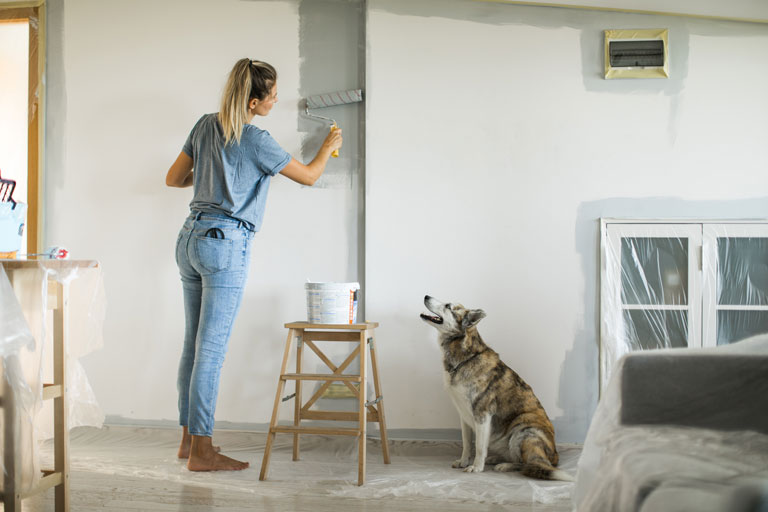 Upgrading kitchens, remodeling bathrooms, and adding on rooms aren't your typical budget-friendly home improvement projects. While you save up for these bigger expenses, why not do some low-cost projects that can make a considerable difference in the mean time.
Home Cleaning
Every home needs to be scrubbed down every so often to make it feel squeaky clean and new again. We're talking more than a good dusting and wipe down—the idea is to clean every nook and cranny inside and out, especially in those places we forget about, including drawers, cabinets and closets. To really brighten things, shampoo the carpets and power wash the exterior for a professional grade cleaning to bring dull surfaces back to life.
A Change of Color
One of the easiest and most affordable ways to freshen a home is with a new paint job. Not ready to paint the whole house? Consider an accent wall for an interesting pop of color. You'll be amazed how much it can transform a room.
Plus, you can think beyond walls. How about a fresh color for your kitchen cabinets or even painting a cement floor? You can get as creative as you want or keep it simple and solid. Click here for some clever painting ideas.
Updated Hardware
By merely changing out cabinet and door handles, faucets, shower heads, light switches and other hardware you can give your home, as well as furniture, an instant update. It's relatively inexpensive (depending on the fixtures and hardware you choose) and you'll see in these before and after pictures what a big difference it can make.
Instant Charm
Quickly add personality and value to your home with crown molding. DIY videos and online instruction make it fairly easy for the everyday homeowner to do. Or add carved corbels underneath a breakfast bar, at the ends of your mantel, or on a bookshelf for instant elegance.
For more home improvement ideas and DIY instruction, check out our Home Improvements board on Pinterest. And once you're ready to take on the bigger projects, which might require some extra help as well as money, consider taking out a low rate personal loan to stay within your budget.