New Year's Financial Resolutions and Resources for Every Situation and Account Balance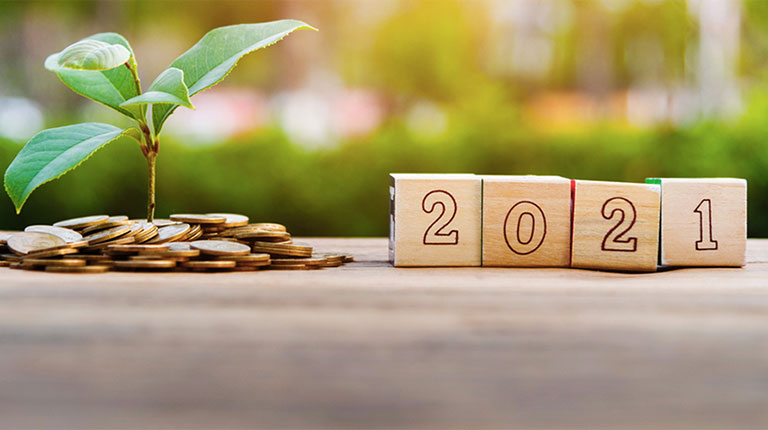 The end of December usually is when we would share advice about what new year's financial resolutions could help our members in the next 12 months. Traditionally, we'd talk about how to take control of your money, make better financial decisions, pay off credit card debt, and save for retirement and emergencies. However, 2020 has been anything but a traditional year, so our advice going into 2021 is different as well.
If You've Experienced Financial Hardship In 2020
While resolving to pay down debt and save more are great practices, and we love helping people live greater by doing those things, we're aware that the financial realities for many in our communities are drastically different this season. Many of our members, families, and friends are in a more precarious financial position after experiencing financial hardships, layoffs and furloughs, a global pandemic, and natural disasters.
As a credit union, Greater Nevada experiences success and hardships in tandem with our members. We stand with those who have experienced unprecedented challenges this year and have several programs to help during these difficult times, including consumer loan payment deferments or modification, mortgage assistance, and credit counseling.
If you are a Greater Nevada member or need help, we are here for you. To speak to one of our team members about how we can support you through challenging times, contact our member resource team by clicking here or call 775-882-2060 or 800-421-6674.
If You're Ready To Set Your New Year's Financial Resolutions For 2021
While some people experienced financial challenges in 2020, others may find themselves in a more reliable place going into 2021. If that's the case for you, here are six practical New Year's Financial Resolutions for 2021 and resources that can support you all year long.
Pay Down Debt
If you're able to, now is as good a time as any to start paying down debt, especially that high-interest credit card. If your debt includes multiple credit cards and other sources, consider using a personal loan or personal line of credit to consolidate your debt with lower interest rates. Our Greater Nevada loan consultants can guide you through the loan process and present the most affordable option tailored to your needs and timeline. You can apply for a loan over the phone or ask questions by calling 855-LIV-GR8R (548-4787). Or you can text GNCUloan to 43783 to apply for a loan.

Start Saving
Having an emergency fund can help you weather future financial emergencies, and starting one doesn't have to be intimidating. For example, if you set an automatic transfer to save $19.23 per week, you'd have $1,000 saved by Dec. 31, 2021. And, if you did this with our I Can Save account, you'd also earn a 5% APY interest rate while building your savings balance until it reaches $1,000. For more tips on how to start a savings habit, check out these tips here.
Get Financially Fit
Take advantage of GNCU's partnership with BALANCE Financial Fitness program to speak to a certified counselor about money management and personal finance using this toll-free infoline. Advisers can also provide an assessment of your spending habits to help you develop a plan and finally get a budget that fits your lifestyle.
Know your score
That's your credit score we're talking about. The BALANCE program can explain your credit report and score to you and tell you why it matters. Monitor your credit report regularly as blips on your credit can be the first way to spot if you've been a victim of identity theft. We also share tips on checking your credit report and raising your credit score in this blog post.
Plan for the future
While your children can take out student loans for college, there aren't similar options to fund your retirement. If you're unsure where to start, Greater Nevada's financial advisors are here to help. You can schedule a free, no-obligation consultation by calling (775) 886-1468. You can also learn about planning for your retirement, 401(k) plans, Social Security benefits, IRAs, estate planning, and more with our customized tutorials. It's never too late to plan for the future and take control of your finances.

It's also a great time to review your insurance coverage as well. Greater Nevada Insurance has the knowledge and expertise to guide you toward the policies that meet your needs and budget, saving you money and time.

Teach good habits
Our children pick up our habits, whether they're bad or good. Modeling healthy spending habits and talking to your kids about finances is the best way to give them a solid financial education. The Biz Kid$ program offers fun financial lessons and is produced by the same people behind "Bill Nye the Science Guy." Kids can learn about credit, budgeting, saving, and giving back to the community.

Here are some other free financial activities for kids:
Whatever 2020 brought your way and whatever 2021 will bring, we at Greater Nevada are here to help you live greater. We wish you and your family a healthy and safe holiday season, and here's to a promising 2021. Cheers!