Having the Financial Talk With Your Parents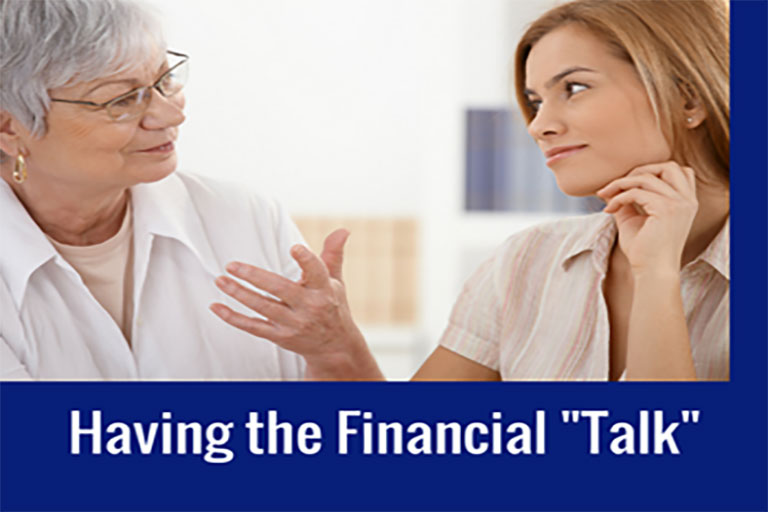 Among the many things we celebrate during the month of May is Older Americans Month. In keeping with the 2017 theme of "Age Out Loud," this is a great time to discuss how to have that financial "talk" with your parents or other elders in your family. For many, discussing finances is not something that's easily done.
Here are a few tips to have that talk:

Set up a time for the discussion. It can be after a family event (so everyone is present) or a milestone birthday, or even a holiday. The important thing is to set a time now before it is too late.

Take a considerate approach. Discussing something as private (and often an emotional issue) as finances is difficult. Acknowledge that difficulty and express respect for the status of your parents or grandparents. Be as considerate and compassionate as possible. Financial expert Dave Ramsey advises to "speak adult-to-adult with parents about money and financial matters."

Determine what kind of information you need. Many often don't know much about the finances of their parents', grandparents', or great aunts/uncles'. Carolyn Rosenblatt of AgingParents.com advises using the following checklist to start:
Legal: What type of estate planning has been done? Do they have an attorney? What kind of legal documents do they have? Do they have a will, trust, durable power of attorney, and a healthcare directive? Who has permission to speak with the attorney?
Healthcare: Determine what kind of medical insurance they have. Find out coverage levels. Do they have long-term insurance to cover nursing homes or assisted living? Who has permission to speak with doctors?
Expenses: Determine all monthly and annual expenses as well as income sources (Social Security, pensions, etc). Determine where they keep their records. Do they have a financial planner? Who has permission to contact the financial planner?
Financial records: Where do they keep their tax returns? Learn the name of their accountant and who has permission to contact that person. What kind of checking, savings, and retirement accounts do they have? Where are they maintained—know the names of all financial institutions. Find out their password information.
Get your family involved. Make sure your siblings or other important members of the family are involved in these talks so there's transparency to your actions and everyone can be on the same page when handling this delicate issue.