Freezin' for a Reason: Why I Take the Polar Plunge for Special Olympics Nevada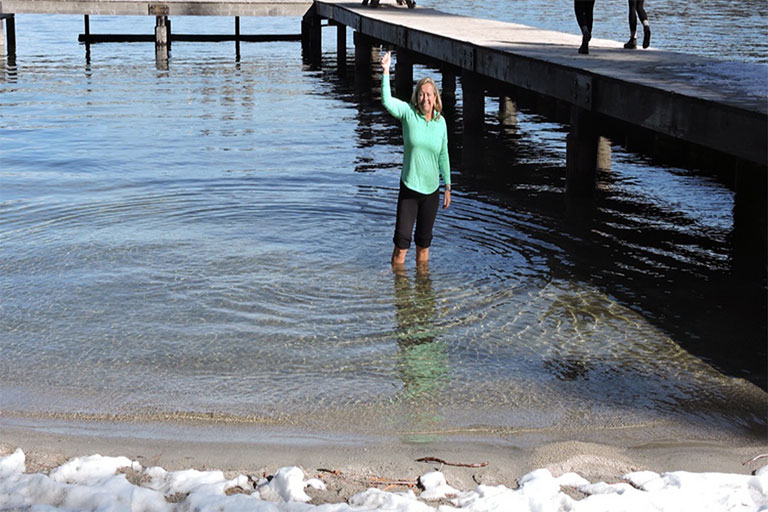 This April 24, I will join my fellow Greater Nevadans and hundreds of other participants to take the Polar Plunge in South Lake Tahoe. Together, we'll brave a few minutes in freezing water to support Special Olympics Nevada and the incredible work it does to facilitate year-round sports training and athletic competition for children and adults with intellectual disabilities.
"The plunge is how we have a lot of fun and engage and educate the community about Special Olympics," Scott Turek, the Director of Development for Northern Nevada, Special Olympics, told me. "Inclusion in the community is one of the most important missions for Special Olympics. Every event that we do is to support and to allow the community to see what our athletes are all about because they are an amazing group of people who will certainly change your lives."

When I run into the cold waters of Lake Tahoe at Round Hill Beach Resort, it will actually be my second time taking the plunge this year, as I participated in the March 27 event in Las Vegas. I'm what we call a "double dipper."

Why do I do it, you may ask? Why plunge into Tahoe's frigid water on a spring day all while wearing a '70s-themed getup?

Because the athletes who participate in Special Olympics Nevada amaze me and inspire me every day.
"Our athletes are so gracious and competitive," Scott said. "When they get onto the basketball court, or in the swimming pool or in the bowling alley, or doing whatever they do, they love to compete. But if they don't win, they're okay with it. They just want to be with their friends. They are an amazing group of people. So, anytime we have any of our events coming up this summer or the Plunge or our spring games, you've got to come out and watch and support this group of athletes. They are quite an amazing group of people that you tend to fall in love with pretty quickly."

I've felt the same since I first became involved in the organization in 2003. That was the first year Greater Nevada became engaged with the organization, and I attended my first Special Olympics event in Kirkwood, California. While I was there, I learned that no Carson City athletes participated in the event because they didn't have a coach. So, the following winter, I started coaching cross country skiing and snowshoeing. My husband joined me, and was equally moved by the experience of working with these athletes. Then, in 2015, I joined the board of the organization.

Soon after my first Special Olympics event in Kirkwood, Greater Nevada Credit Union became the Northern Nevada Polar Plunge's title sponsor. Our passion statement is Helping More People Live Greater, and together with Special Olympics Nevada, we're able to help these athletes compete and strive toward greatness. In 2019, the organization provided free sports training and competitions, health services, and education programs to 3,780 athletes.

Of course, the pandemic had a tremendous impact on Special Olympics Nevada and its athletes. In addition to canceling the 2020 Polar Plunge, health and safety measures also limited how these athletes could engage with each other and the organization. While Nevada and Northern California quickly innovated to develop virtual sports, it's hard to replace the in-person experience. It means everything to the athletes to be able to be together, to be able to practice, to be involved in their sports. And this year's Polar Plunge in Lake Tahoe is one of the first steps to reigniting that experience.

"We are excited to have our plunge at South Lake Tahoe this year," Scott said. "I hear the water is going to be pleasantly delightful."

He said that with a bit of an anticipatory smile on his face. You see, this year will actually be Scott's first time taking the plunge in Lake Tahoe for Special Olympics Nevada.

"I'm getting psyched up," he said. "I've lived here all my life. I've jumped in Lake Tahoe during the heat of the summer, and it was still really cold. So, you know it's going to hit you right when you get in the water. But you just have to have just enough craziness to say, 'Look what we're doing,' and you've got hundreds of other people saying, 'You got to do it!'"

Since it will be my 16th year taking the Plunge, I often get asked what my advice is for first timers. I tell them just to enjoy the day. It's not about how far you go into the water, or if you're a towel holder, or if you're a plunger. Enjoy the experience of being with the athletes and watching what it means to them.

If you want to get involved, the South Lake Tahoe Polar Plunge is still accepting registrations for participants, and of course, donations. There's even an opportunity to register as a Virtual Plunger and "Plunge" right from the comfort of your home. For more information on the South Lake Tahoe event and events in Elko and Mesquite, visit sonv.org/plunge.