Preparing Your Home for Wildfire Season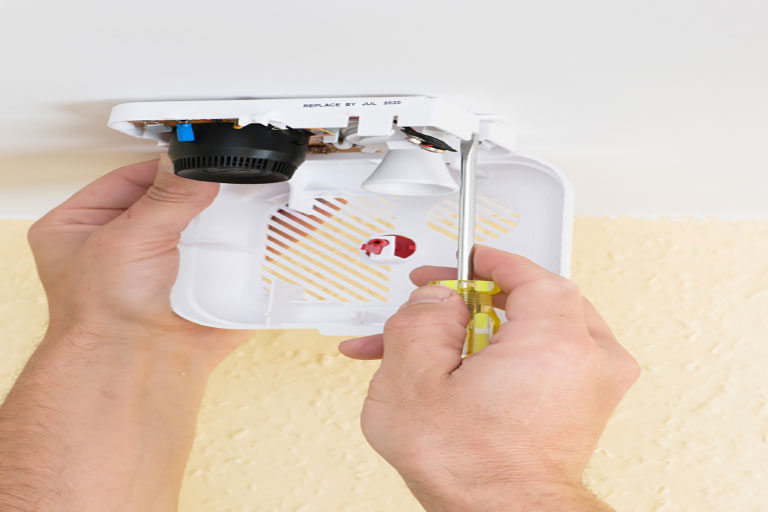 My husband and I moved to Reno a little over a year and a half ago from Independence, Kentucky which is a suburb of Cincinnati, Ohio. Summertime in the Midwest is primarily hot with a side of humid, and the occasional thunderstorm and/or tornado. We didn't really hear much about wild fires in our neck of the woods.
Last weekend, we could see the Hunter Falls fire from our back porch. During the day, we only could see billowing smoke. However, once the sun set the mountains behind our house sparkled with bright orange jewels and one huge ball of flames where the center of the blaze was condensed. Seeing a wildfire up close and in person is quite unsettling.
Spring Cleaning
Of course, being the worrier that I am, I began to look into ways we can protect our home and community from wild fires. Experts advise that your first step is to make sure your landscaping creates a barrier or defensible space between vegetation and your home. Flammable vegetation needs to be limited and dead vegetation removed. If this is done, if embers do reach vegetation near your house the spread of the fire will be slowed down. This requires no special equipment, just sweat equity. Regular garden shears, rakes, garbage bags etc. do the trick.
Fire Wise Landscaping

In order to make sure your yard is fire-safe, here are some basic tips:
Pick fire resistant plants
Use low growing plants
Space your trees
Don't over plant
Water and maintain your yard regularly
Avoid planting immediately adjacent to the siding; underneath vents or eaves; tree limbs over the roof; and underneath or near the deck.
Be careful with mulch – mulch can conserve moisture but it also burns when dry.
Affordable Plant Shopping
If you're looking for great deals and rare plants, you won't want to miss the May Arboretum Society Plant Sale Saturday, June 7, 2014, from 8:00 a.m. – Noon. The first 30 kids will get a pot that they can paint and fill with dirt at no cost. The May Arboretum Society is also a great resource for information on the importance of plants in our region. If you're looking for ways to give back, the Arboretum sponsors community clean ups and bulb planting days.
Prepare Your Family
It's important to have a disaster plan in place so that you're ready for a wild fire or other natural disaster. Take time to make sure everyone in the household knows what to do in case there is an emergency. Keep in mind not everyone may be in the same place if disaster strikes. How will you disseminate information? It's also great to have an already assembled emergency kit so that you can grab it and go in a hurry. Hopefully you will never have to use any of these tools, but having them ready will provide peace of mind.
Inside The Home – The Basics
My husband and I are preparing to become foster parents, and the Washoe County requires that you have your home as safe as possible. We must have one fire detector in front of every bedroom and a five pound fire extinguisher, easily accessible on each floor. It's also required that we hire someone to test the fire extinguishers each year to make sure they are in working order. Since we have a 2-story home, we must have a ladder that is easily available to the upstairs bedrooms so that in case we cannot get to our staircase that we can climb out the window. Most of this is common sense and requires some cost, but not much. Five pound fire extinguishers cost from $50-$60 and ladders start at $30. Fire extinguisher inspection costs around $20 a year.
Home fire sprinkler systems are very effective at fighting fires, but they are not a cheap date.
In 2009, only 4.6% of all homes had sprinkler systems. Due to the high cost of sprinklers, most of us will rely upon the common sense approach.
Furry Friends
Last but not least, as a proud mom of 2 shelter dogs, I must mention pet safety during wild fire season. If you kennel your pets, put them by entrances of the home so that fire fighters can find them easily. Keep leashes and collars near the door for easy access. Put a note in the front window to alert fire fighters to the number of pets in your home and their names. I recently attended a Dog and Cat First Aid Class at the Humane Society which provided a wealth of information on what to do in case your pet is injured in a fire or otherwise.
I brought some secret rain dances with me from Kentucky and they seem to be working as I write this post. We do, however, live in the desert and wildfires are a risk. I hope that you stay safe out there. If you have additional tips for wildfire safety, please share them with us!