Get Ahead and Start Preparing for the Next Financial Emergency Today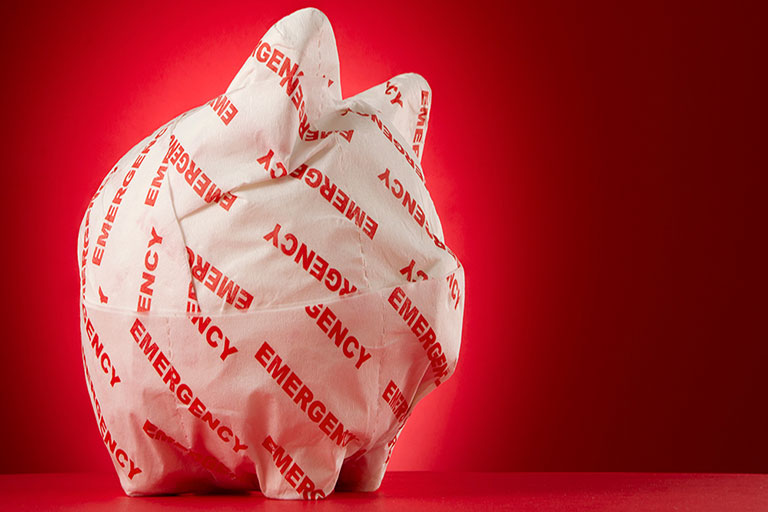 Amid all the other crises of 2020—a global pandemic, the largest wildfire season recorded in California history, murder hornets (remember those?)—many people are also experiencing their own financial emergency. Some have lost their jobs due to the COVID-19 pandemic or seen a dramatic dip in their hours and pay. Others have watched their retirement savings fluctuate due to market conditions. For some small business owners, the one-two-punch of state-wide closures and the threat of the coronavirus has led to an almost 27% dip in revenue.
That's why, in light of September being Emergency Preparedness Month, it's important to think about how to prepare for a financial emergency. If this year has taught us anything, it's that there's no quota of disasters for any given calendar year. While there are circumstances out of our control, there are many ways we can prepare for a financial emergency.
Start Saving for a Financial Emergency
While you may expect to hear that having a savings account can help you weather a financial emergency, you may be surprised at how little you need to get started. Having even $250 to $749 saved makes you less likely to be evicted, miss a housing or utility payment, or receive public benefits after a job loss, health issue, or significant income drop, according to the Urban Institute.

In fact, most studies show that saving $1,000 can be enough to handle an emergency without resorting to credit card debt, borrowing money from family or friends, or using payday loans. And, people with an emergency savings account are 2.5 times more likely to be confident in their long-term financial goals.

So, how do you get started? One penny at a time. For a breakdown on how to stash that cash, check out this blog post. And, to accelerate your savings habit, check out our I Can Save account, which doesn't require a minimum deposit and offers a generous rate of return and incentives to keep the money in the account for emergencies only.
Live Within Your Lifestyle
One of the best ways you can position yourself to save for a financial emergency is to create and manage a budget that fits your lifestyle. By setting a budget and tracking your progress each month, you can make sure you're saving for the future while living greater today. It may seem overwhelming at first, but our free budgeting worksheet in our free Living Greater eBook can be the right resource to jumpstart your money engine.
Better Insured Than Sorry
In the case of natural disasters or personal injuries, having the right insurance can be the difference between bankruptcy and solvency. To get ahead of financial emergencies, first make sure that all your insurance is up-to-date and can cover all that you own, including personal belongings. Many people who are affected by a natural disaster discover too late that they were underinsured. It's also worthwhile to consider additional insurance tools, such as Accidental Death and Dismemberment insurance, Disability Income, and Debt Protection.
Get Your Documents in a Row
You probably don't want to be digging through piles of papers while you're dealing with a financial emergency. Collect all your important documents, such as birth certificates, mortgage papers, loan papers, and insurance papers, and place them in a safe, preferably fireproof, and easy to access location. To take extra good care of your future self, make a list of everything in your house and keep that in the same location as your important papers. This will come in handy should you ever have to remember what you've lost in a disaster.

Here's another pro-tip: take pictures of your home and valuable items, and then save the photos on an online location, such as iCloud or Google Drive. Then, you'll have an easy way to actually see what might be missing.
Build Relationships with Trusted Partners
In the face of a financial emergency, you're going to want an A-team on your side to help you leverage every tool, resource, and opportunity available. Like any healthy relationship, this kind of partnership takes time to build. Think about who you would call if you were faced with a financial crisis and needed some guidance on how to navigate it. Maybe it's a financial advisor, or a knowledgeable and trusted representative at your financial institution. In any case, you should feel comfortable calling this person when you need help. If you're a business owner, you can help your people build these kinds of relationships by creating an employee membership program. For more details, click here, or simply call (775) 882-2060 or (800) 421-6674.

At Greater Nevada Credit Union, we're on a mission to help more people Live Greater. And it's hard to Live Greater while living in fear of a financial emergency. That's why we've created a full portal of financial education tools to help each person find their own path to greater financial freedom. Looking for something that you don't see here? Let us know, and we'll see how we can help you.