Nevada Wolf Pack Marches to a Greater Beat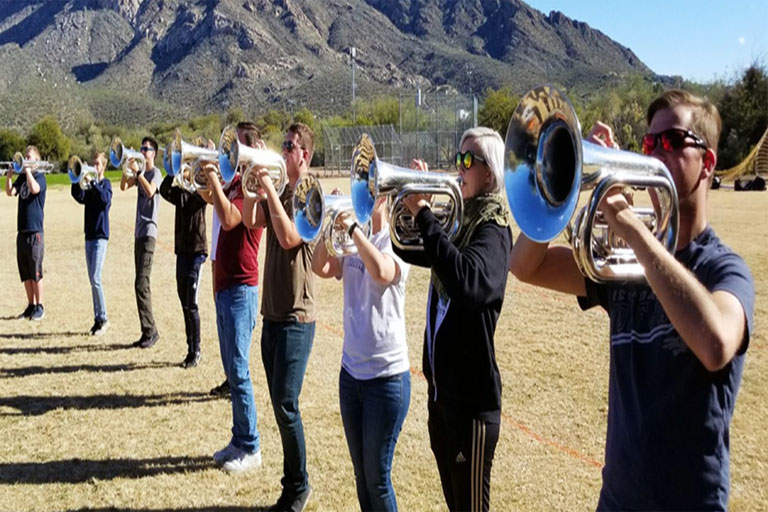 University of Nevada Wolf Pack games have been a little different this year. There is no roar of the crowd coming from the stands, but that hasn't stopped the Wolf Pack Marching Band from keeping the spirit of the Pack strong.
For me, the music has always been a key element in enjoying myself at any of our Wolf Pack games. The positive energy, motivation and inspiration are so important, especially during a year like this one. We can all imagine what sporting events look like with no fans in the stadium—we've seen it this year on TV. But can you imagine what they would sound like with no music?

That's why Greater Nevada Credit Union (GNCU) is proud to sponsor the Wolf Pack Marching Band. At the beginning of this year, GNCU presented the band with a $41,000 check, providing funds for uniforms, instruments, travel and scholarships.

Sure, our logo is on some of their gear, but that's not the real reason we partner with them. Our passion is and always has been To Help More People Live Greater. When we see other community members and organizations living the same passion, we want to support them.

The band's role extends far beyond the University. They perform for various community events, such as the Nevada Day Parade, and participate in important fundraisers, such as the Polar Plunge where they jump into the frigid Lake Tahoe water to raise funds for Special Olympics Nevada.

"Not only are we visible at University events, but all around our community and even the nation, too," said Reed Chamberlin, Director of Bands at the University.

Especially when our community is struggling to stay afloat, it's important to support the arts that bring so much life and joy to many. Like all of us, the band isn't immune to this pandemic's economic impacts, and when times get tough, the arts are usually the first things to get cut. But the band has found a way to embody our community spirit of perseverance and keep marching on.

"We actually started to practice in sectionals," said Stephen Eubanks, Associate Director of Bands at the University. "The foundation we laid in those small groups paid off and when we put everything together, the music was there, ready to go."

At Greater Nevada, we don't only join forces with our community partners when times are good. We need to be there for each other for the hard times, too. So, this year, we collaborated to find ways we could stay together. This can-do attitude is reflected in the ways the band's leaders conduct themselves, is passed on to their students, and ultimately inspires us, the community.

"How can we work this to our advantage?" Eubanks reflected. "Come next August, we're going to be miles ahead of where we would normally be—you just take the situation and make the best out of it."

It's no simple task to keep such high spirits, and let's not forget, these students are dealing with this pandemic just like the rest of us are. For them, continuing to play music is their way of maintaining a sense of normalcy in their world.

"I've had so many students say to me this is their favorite part of the day because this is all they have going right now," Chamberlin said. "I think it's something that's helped anchor them, not just to the University or to music playing, but also to other people. Music making is a community endeavor, and it's something that's supposed to be shared."

And share it they do. With their chins held high, this exceptional group reminds us that while things are very different right now, the show must go on. Their glass-half-full mentality has even led them to see new opportunities this challenging time has brought.

"It's actually kind of fun," Eubanks said with a laugh. "We're getting to play at the games more than we usually do because there aren't the usual distractions around—it's all us, so we get to really show off."

Like sports, music plays such an important role in our lives. From teaching dedication and hard work, to fostering confidence and community, its teachings and inclusivity touch all of us, even when we are physically apart.

"There are a lot of life lessons, like how to be a better person, and how to be more in touch with yourself— emotionally, and intellectually," Chamberlin said. "One of the great lessons we've been able to help teach our students is to understand perseverance and resilience, and that when things are hard, or there are obstacles, you find a way."

The Wolf Pack Marching band embodies these lessons every time they practice, play and perform. If this year has taught me anything, it's that the only way to truly Live Greater is to keep marching onward.