Here's How to Hold Your Annual Corporate Meeting Safely During the COVID-19 Pandemic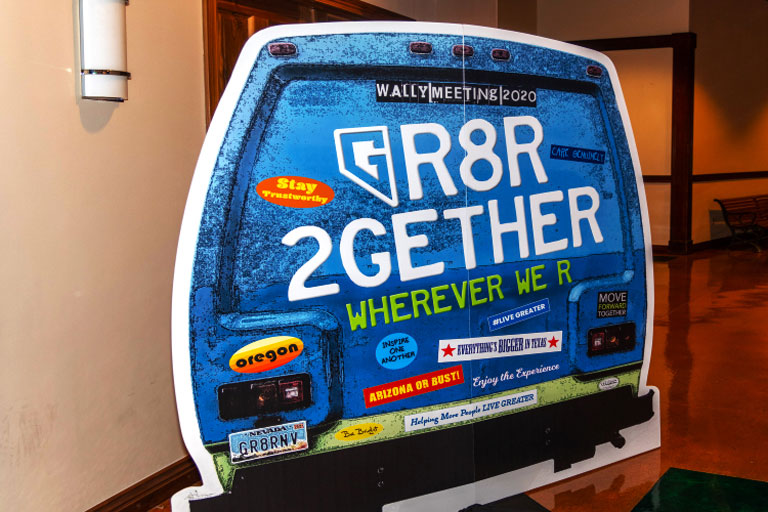 In the face of the global pandemic, we at Greater Nevada had a number of choices to make regarding our annual meeting. Rather than altogether canceling or moving our annual meeting online this year, we took a different approach. By implementing new technology, ensuring protocols were followed, and working with event experts, we held our annual meeting and protected our team's safety. We're extremely proud that no new COVID cases were reported as a result of our event!
We call our annual employee meeting the "Wally Meeting" for short, and it's named for Greater Nevada Credit Union President and CEO Wally Murray. Although it bears Wally's name, the event's focus is on our entire Greater Nevada team. We typically bring everyone to one location for a day of fun recognition with employee awards and information. It's a great event to come together as we continue to grow as an organization with geographically dispersed employees. Bringing people together to form relationships is really important.
Our employees look forward to the event's relationship-building aspect, which aligns with our company culture and ethos of Helping More People Live Greater. This meeting is what every Greater Nevada employee looks forward to each year, whether it's their first day or 10th year. This year's difference was that our #1 priority became the safety, health, and well-being of our employees, so everybody felt comfortable attending.
We ended up hosting nine separate events simultaneously across the state of Nevada. Wally attended as many events as possible, and we worked hard to make sure each event was of the same high caliber. We rented larger room space than we needed—rooms that would accommodate 100 people even though there would be 40— which allowed for more than the six feet necessary to ensure social distancing.
The benefit of holding events in the middle of a pandemic was that we could support local venues with our business. A Las Vegas venue opened its property for the first time since the beginning of the pandemic to host us. It was the first time their people were able to go back to work. They were amazing and appreciative because they were able to bring back staff to accommodate our meeting.
We did learn a few things about hosting events during a pandemic. So, if you're asking yourself whether you still can hold your annual meeting now, the answer is yes. You can do it and safely, and here's how.
4 Tips for Hosting a Socially-Distanced Annual Meeting
Technology is your friend
We used a digital release form using QR codes on attendees' smartphones to ensure that attendees weren't experiencing COVID-19 symptoms. They also disclosed whether they had a pending COVID-19 test. We also worked with a professional A/V crew to create a unified video experience across all nine rooms and anyone attending virtually.

Follow the Centers for Disease Control and Prevention (CDC) guidelines
We rented larger spaces to ensure social distancing, provided masks, required mask-wearing, provided plenty of hand sanitizer, and conducted temperature checks before each meeting. We utilized floor stickers to make sure people were distancing in line and added COVID-19 prevention messaging to audiovisual presentations. Those who couldn't attend the meeting because of medical reasons were still included in the event as much as possible.

It's a team effort
We sourced professional help to ensure that each event's look and feel were the same, and that all audiovisual presentations went off without a hitch. It's essential to get the right people to help you.

Be prepared
Always be prepared for things to go wrong… because they will. Have a Plan B in case something doesn't go as you had planned.

This year's event theme was "Greater Together Wherever We Are." And we truly are greater together. We maintained the event's essence: The recognition, the fun, and the education while keeping it safe. We got great employee and executive feedback on what they liked and what we can improve on for next year to make it even better.