Is Your Mobile Banking Safe?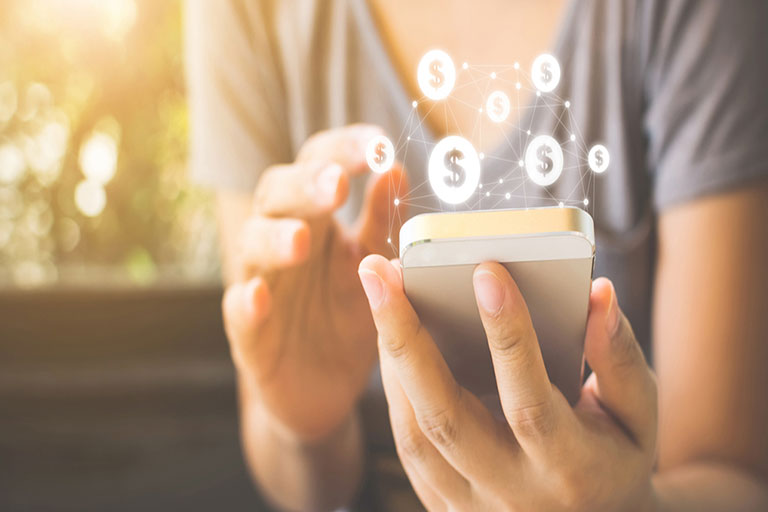 It used to be that most banking, like making deposits, applying for and paying on loans, and transferring funds, was done inside of a branch. These days more people are doing their banking online and on the go through their mobile devices. If that's your preferred way to bank, is it safe?
Like any type of online transaction, there are steps you can take to protect your personal information and stay secure. Read on to learn about the world of cybersecurity and how to enjoy the convenience of online banking without the worry.
Types of Mobile Security Threats
1. Phishing
When someone sends you a scam email or text and you click on it, you've been phished. The hacker then gets access to your system and often times it usually takes more than just closing the window to get rid of the problem. It can also mean that any texts, calls, or data you send via an app on your device can get intercepted by this hacker.

In the worst case scenario, the hacker has sent a link asking for personal information that you fill out without knowing it's from a fraudulent third party.
2. Wi-Fi Interference
Wi-Fi interference is when you connect your mobile device to an unknown (or even sometimes known) Wi-Fi network and it's really an impersonator. For instance, you stay at a hotel and log into their Wi-Fi network on your phone. While there, a hacker disguises their network to look like the hotel network so your phone will sync to it instead of the real hotel network.

The hacker is now picking up whatever information they want from the data you're sending.
3. Outdated Devices & Software
Another area that can result in vulnerable information is having an outdated device that's not compatible with current software. Likewise, if you have a newer phone but don't regularly update the software, which can cause security risks too.

Outdated software and hardware leaves gaps for hackers to get into your system and access your information.
4. Physical Device Breaches
A phone or other mobile device left out for just a few moments can be an invitation for hackers to access your information or even install apps. Once in, they can continuously see the data you send, record your phone calls, and even provide your geo-location—without you even knowing it!
Ways to Avoid Online Banking Security Threats
There are some simple ways to maintain privacy on your device while enjoying the flexibility to enjoy mobile banking. Below are six things to do today!
1. Beware of Phishing Texts & Emails
Although phishing texts and emails are sometimes hard to identify, there are ways that you can spot them to keep your information safe. First, if the number or email looks odd, such as an email address with unusual content before the company's domain name, or if a text is from an odd number, don't open or respond. Another thing to look for is in the text or email body. If it has a URL address that doesn't go to that company's actual site, then it's also most likely a phishing message.

To better identify phishing messaging you can install scam alert apps to know which messages to delete. And remember, your financial institution will never send you an email or text asking you for personal information!
2. Stay Away from Public Wi-Fi
Don't use or send personal information when not logged into a secure Wi-Fi network. Stick to your data network, instead—especially when doing your online banking, even knowing that most banking apps utilize additional security features.

You can also get security apps that will help when sending personal information online.
3. Keep your Hardware & Software Updated
No, you don't need to constantly buy the latest mobile device. However, to prevent hacking through the cracks in outdated software or phone versions, update your phone software as soon you're notified that updates are released. When you find that your device or software isn't working well anymore, check with your provider. If issues can't be fixed, then it might be time to upgrade to a newer device.
4. Clean up Unused Apps
When you have a lot of apps on your phone, they can present security gaps if their software isn't regularly updated. To help mitigate risk, remove apps that you don't use and make sure that the apps you keep are current versions so you have the necessary patches to keep your information safe.

You can also check your online banking app to see when it was last updated. For instance, in the Google Play store, Greater Nevada Credit Union's online banking app shows the most recent update, along with other information:
5. Secure your Device
You may think that you don't leave your mobile phone or device unattended very often. However, you'd be surprised how quickly a hacker can access a piece of hardware without you even knowing it.

By accessing your device, or even the apps installed on it, with a pass-code, a pin, or better yet biometrics, your phone won't be vulnerable to hackers when it's accidentally unattended.
6. Get Security Apps
Security apps can help further protect the data on your phone, especially when conducting your online banking. Those include:
Avast Mobile Security
Norton Mobile Security
Sophos Mobile Security
LastPass
McAfee Mobile Security
Due Mobile
WhoCalls
When using your mobile device, especially for mobile banking, it's more important than ever to make sure you are using all of the resources available to protect your device, and yourself.

Learn more about protecting your personal information.